Target's Designer Collab Is Full Of Plus-Sizes Pieces — Our Favorites From The Line
There are few things that get me as excited as a new Target designer collaboration. As a lifelong lover of a bargain, I relish the chance to add high-end labels to my wardrobe for a fraction of the price. As a plus size fashion blogger who has been advocating for more size-inclusive options for the last decade, I love being able to finally try brands I've always wanted thanks to Target's extended sizing. And as a triple water sign (Cancer sun, moon, and rising!), this latest collection — designed in collaboration with Agua Bendita, Fe Noel, and RHODE — holds particular appeal, because it also contains my favorite category: swim wear. Though the options for plus size swim are much better now than ever before, it can still be difficult to find stylish, well-fitting suits; all the parsing of size charts and guesstimating required for shopping swim online can be frustrating. Since the Target Designer Collections tend to sell out fast, I set out to try out swim pieces (available in xxs-4x) from all three of this season's designers, so you can have the sizing info you need before the collection drops on April 15.  As someone who has tried on hundreds — if not thousands — of plus-size bikinis over the years, I've learned that the swim category tends to run small, so I usually opt for the larger size if I am unsure. While I am typically a size 18/20, or a 1x/2x in Target's designer collabs, in the spirit of erring on the side of caution, I got a 2x in almost all the pieces I tried here. Much to my surprise, I soon discovered that was not needed, as this collection is sized generously for plus. All to say: If you are waffling between two sizes, you might want to size down — but more on the fit below. Read ahead for thoughts about each item I tried from the Target Spring Designer Collaboration collection. Target x Fe Noel Ever since Fe Noel's stunning New York Fashion Week debut, I've been a fan of the brand. As someone who had their gorgeous puff sleeve bodysuit on my wishlist for some time now but was unable to buy it — it only goes up to an XXL — I was absolutely thrilled to see their name on the Target Spring Designer Collection lineup.  The 38-piece collection stays true to Grenada-born designer Felicia Noel's fashion-forward Caribbean aesthetic and includes faithful renditions of some of the label's signature styles, like their voluminous Panty Pant, ruffle-adorned caftans, and metallic swim in innovative silhouettes.  For me, it was a no-brainer to go for the puff sleeve cut-out one-piece, a near-dupe of the exact Fe Noel piece I've been pining for. This suit is a little big on me in the 2x, particularly around the waist cutouts; if I was ordering again, I'd likely go a size down for a better fit. But the rich metallic green hue and the dramatic sleeve are so spot-on that that bit of extra roominess doesn't bother me — this is a #plussizeplease wardrobe want fulfilled. I paired it with the high-waisted cargo pants, another near-perfect dupe of Fe Noel's core collection. The only differences are that the $648 originals are made from 100% linen, not a blend like Target's version, and the pant legs have more volume and an extra pocket — all sacrifices I am fully prepared to make to get the look at a $35 price point! If you are going to buy just one piece from this Target Designer Collection, I'd recommend these pants (also available in black). I'm wearing a size 20 here, and the fit is excellent and true to size. From a practical standpoint, I wondered whether the artistic cut-outs on the asymmetrical one-piece would hold up to (and hold up) my natural curves, but it worked better than expected. The suit can't fully defy gravity, so there was a bit of bust asymmetry on me, but the overall look was still very cool, and I never felt in danger of a wardrobe malfunction. This one was secure and comfortable enough for a full day at the beach — I might just skip any intense beach volleyball matches. I was also excited about this floral bikini. Unfortunately, once I tried it on, I realized that it's better suited for a smaller bust. Even after sizing up to a 24 in the top, the cup depth and spacing just did not work for me. The suit itself has a lot of thoughtful details that you don't usually find at this price point, including a padded flat hook back closure and fully adjustable tie straps. Even though I'm sad this one isn't for me, I think it is going to look amazing on someone with a more proportionate and wider-set bust. Last and certainly not least is this ruffle-accented caftan in a sketch palm print, another piece that looks pulled from Fe Noel's main collection. If you are looking for a coverup that exudes over-the top-luxury for $35, this is IT. I put it on and immediately felt ready for a week of island hopping on my non-existent yacht. I'm wearing the 2x and it is roomy, even for a caftan, so size down if you are between sizes.  Target x Agua Bendita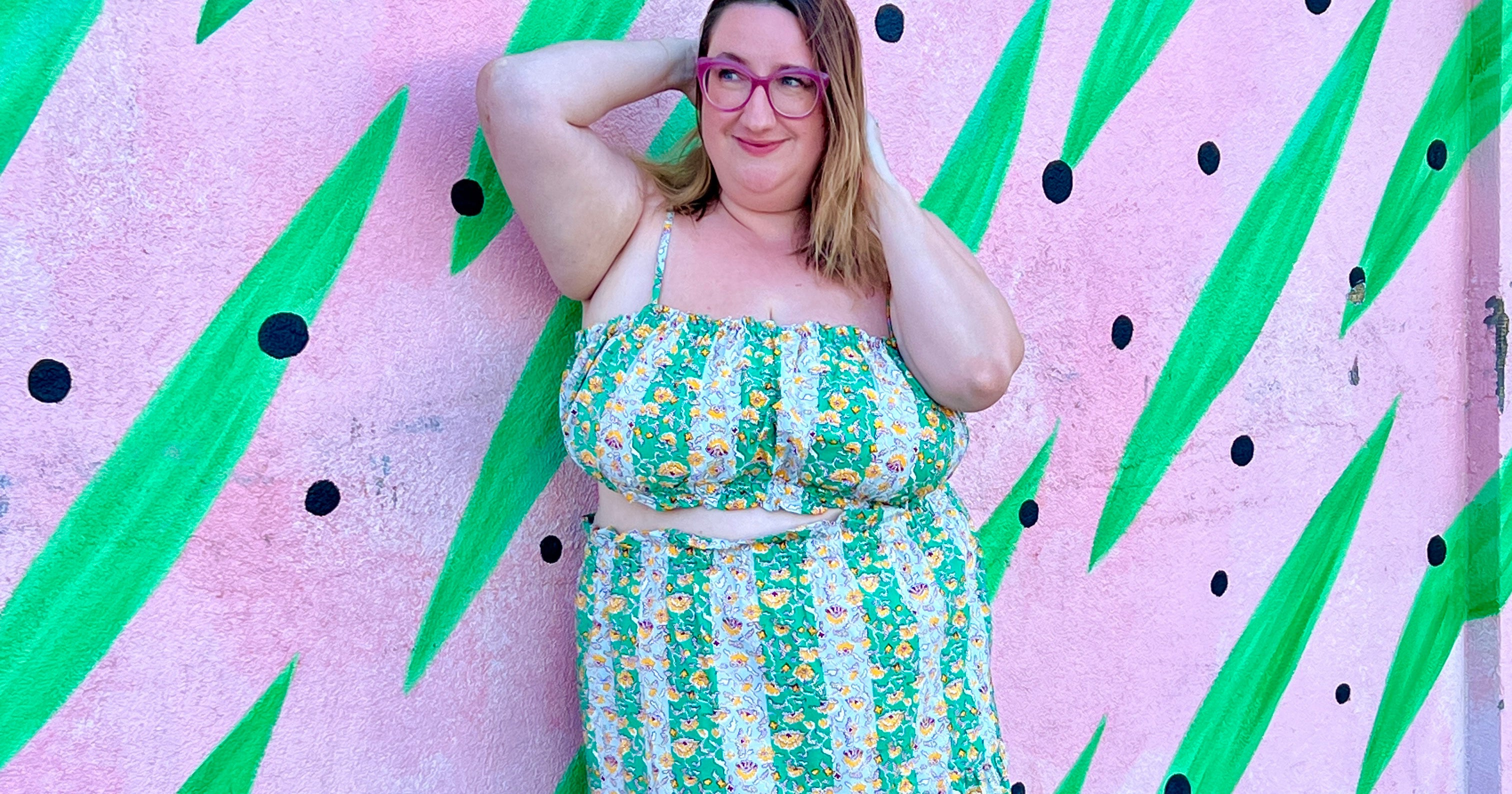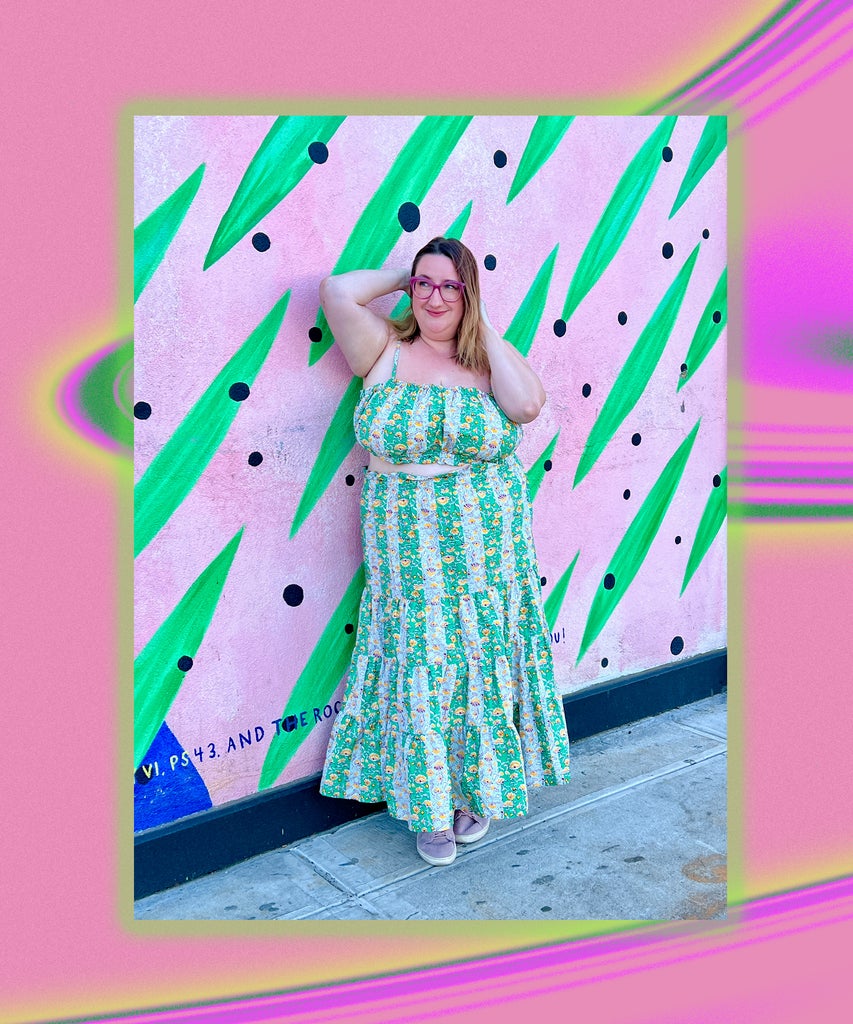 There are few things that get me as excited as a new Target designer collaboration. As a lifelong lover of a bargain, I relish the chance to add high-end labels to my wardrobe for a fraction of the price. As a plus size fashion blogger who has been advocating for more size-inclusive options for the last decade, I love being able to finally try brands I've always wanted thanks to Target's extended sizing. And as a triple water sign (Cancer sun, moon, and rising!), this latest collection — designed in collaboration with Agua Bendita, Fe Noel, and RHODE — holds particular appeal, because it also contains my favorite category: swim wear.
Though the options for plus size swim are much better now than ever before, it can still be difficult to find stylish, well-fitting suits; all the parsing of size charts and guesstimating required for shopping swim online can be frustrating. Since the Target Designer Collections tend to sell out fast, I set out to try out swim pieces (available in xxs-4x) from all three of this season's designers, so you can have the sizing info you need before the collection drops on April 15. 
As someone who has tried on hundreds — if not thousands — of plus-size bikinis over the years, I've learned that the swim category tends to run small, so I usually opt for the larger size if I am unsure. While I am typically a size 18/20, or a 1x/2x in Target's designer collabs, in the spirit of erring on the side of caution, I got a 2x in almost all the pieces I tried here. Much to my surprise, I soon discovered that was not needed, as this collection is sized generously for plus. All to say: If you are waffling between two sizes, you might want to size down — but more on the fit below.
Read ahead for thoughts about each item I tried from the Target Spring Designer Collaboration collection.
Target x Fe Noel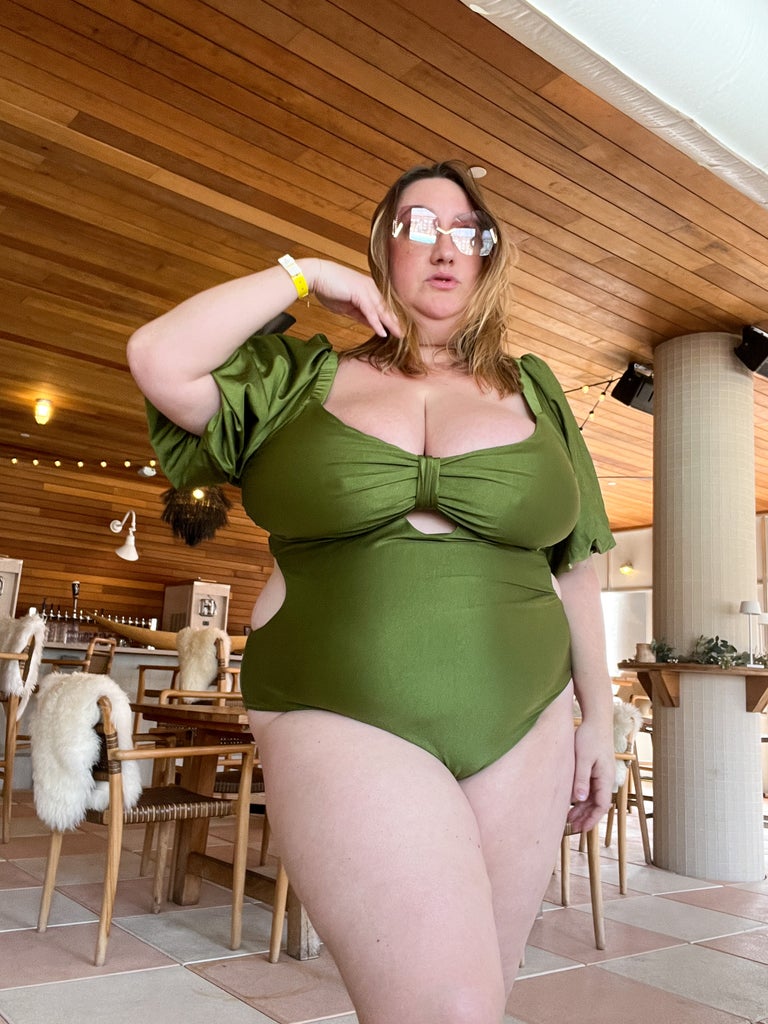 Ever since Fe Noel's stunning New York Fashion Week debut, I've been a fan of the brand. As someone who had their gorgeous puff sleeve bodysuit on my wishlist for some time now but was unable to buy it — it only goes up to an XXL — I was absolutely thrilled to see their name on the Target Spring Designer Collection lineup. 
The 38-piece collection stays true to Grenada-born designer Felicia Noel's fashion-forward Caribbean aesthetic and includes faithful renditions of some of the label's signature styles, like their voluminous Panty Pant, ruffle-adorned caftans, and metallic swim in innovative silhouettes. 
For me, it was a no-brainer to go for the puff sleeve cut-out one-piece, a near-dupe of the exact Fe Noel piece I've been pining for. This suit is a little big on me in the 2x, particularly around the waist cutouts; if I was ordering again, I'd likely go a size down for a better fit. But the rich metallic green hue and the dramatic sleeve are so spot-on that that bit of extra roominess doesn't bother me — this is a #plussizeplease wardrobe want fulfilled.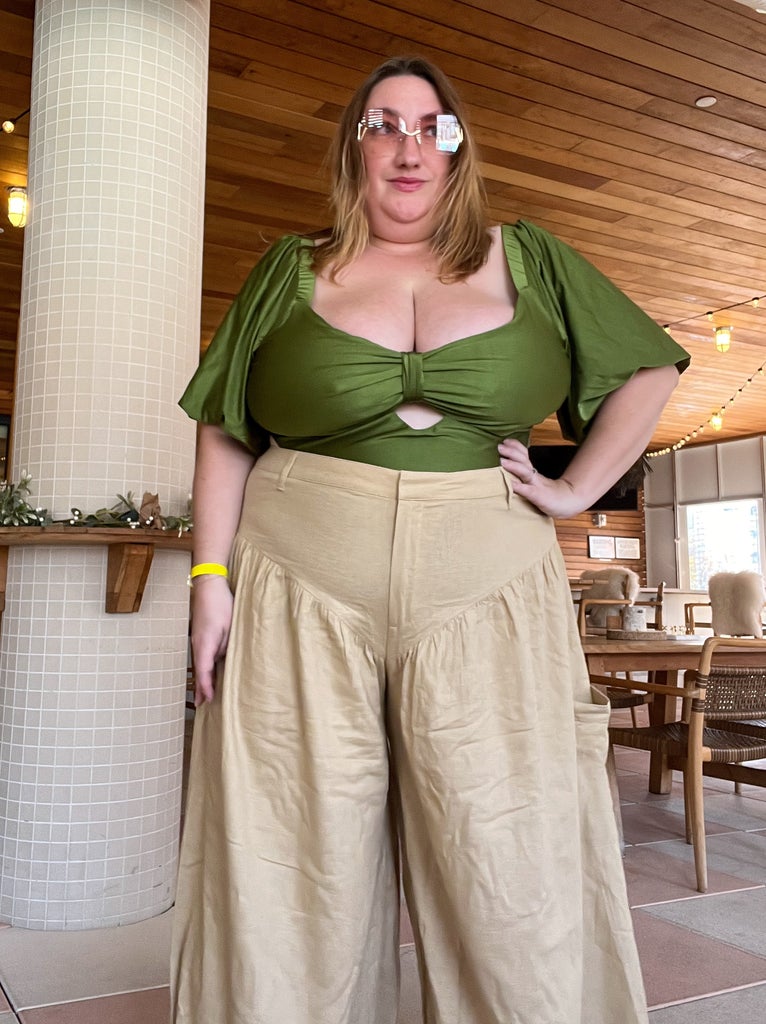 I paired it with the high-waisted cargo pants, another near-perfect dupe of Fe Noel's core collection. The only differences are that the $648 originals are made from 100% linen, not a blend like Target's version, and the pant legs have more volume and an extra pocket — all sacrifices I am fully prepared to make to get the look at a $35 price point! If you are going to buy just one piece from this Target Designer Collection, I'd recommend these pants (also available in black). I'm wearing a size 20 here, and the fit is excellent and true to size.
From a practical standpoint, I wondered whether the artistic cut-outs on the asymmetrical one-piece would hold up to (and hold up) my natural curves, but it worked better than expected. The suit can't fully defy gravity, so there was a bit of bust asymmetry on me, but the overall look was still very cool, and I never felt in danger of a wardrobe malfunction. This one was secure and comfortable enough for a full day at the beach — I might just skip any intense beach volleyball matches.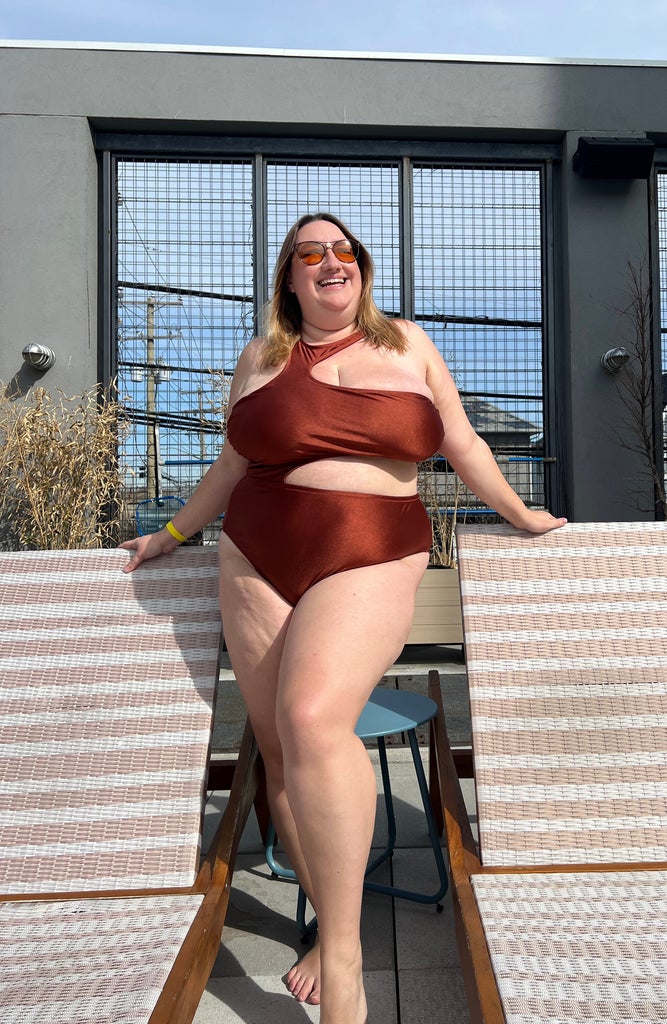 I was also excited about this floral bikini. Unfortunately, once I tried it on, I realized that it's better suited for a smaller bust. Even after sizing up to a 24 in the top, the cup depth and spacing just did not work for me. The suit itself has a lot of thoughtful details that you don't usually find at this price point, including a padded flat hook back closure and fully adjustable tie straps. Even though I'm sad this one isn't for me, I think it is going to look amazing on someone with a more proportionate and wider-set bust.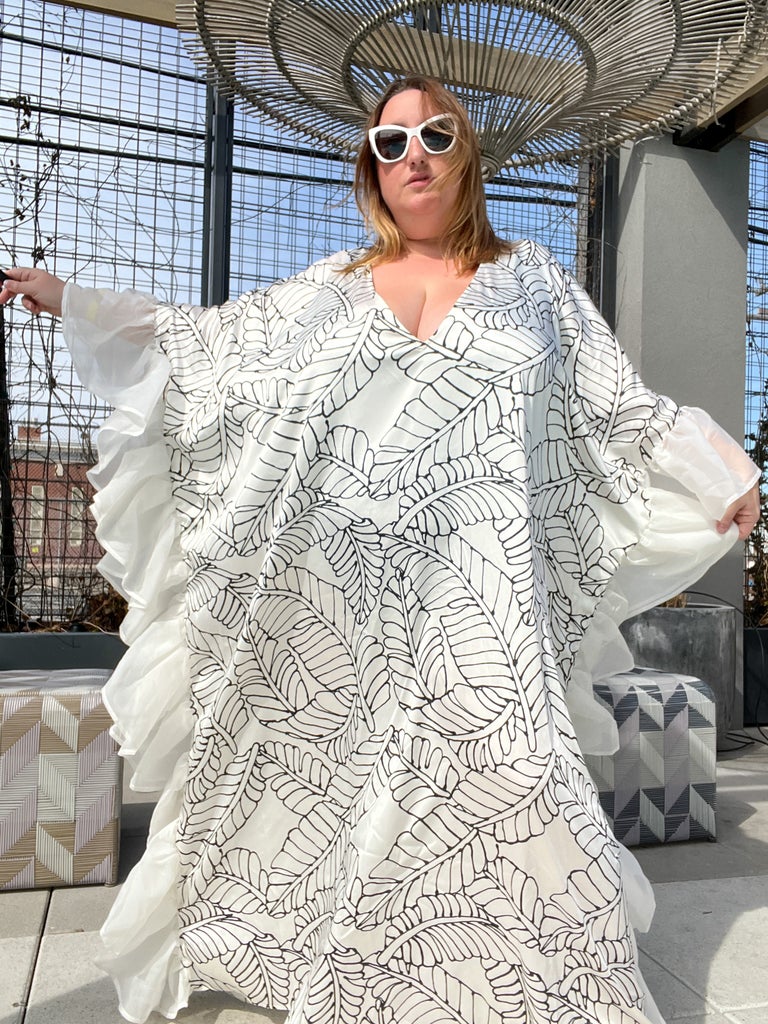 Last and certainly not least is this ruffle-accented caftan in a sketch palm print, another piece that looks pulled from Fe Noel's main collection. If you are looking for a coverup that exudes over-the top-luxury for $35, this is IT. I put it on and immediately felt ready for a week of island hopping on my non-existent yacht. I'm wearing the 2x and it is roomy, even for a caftan, so size down if you are between sizes. 
Target x Agua Bendita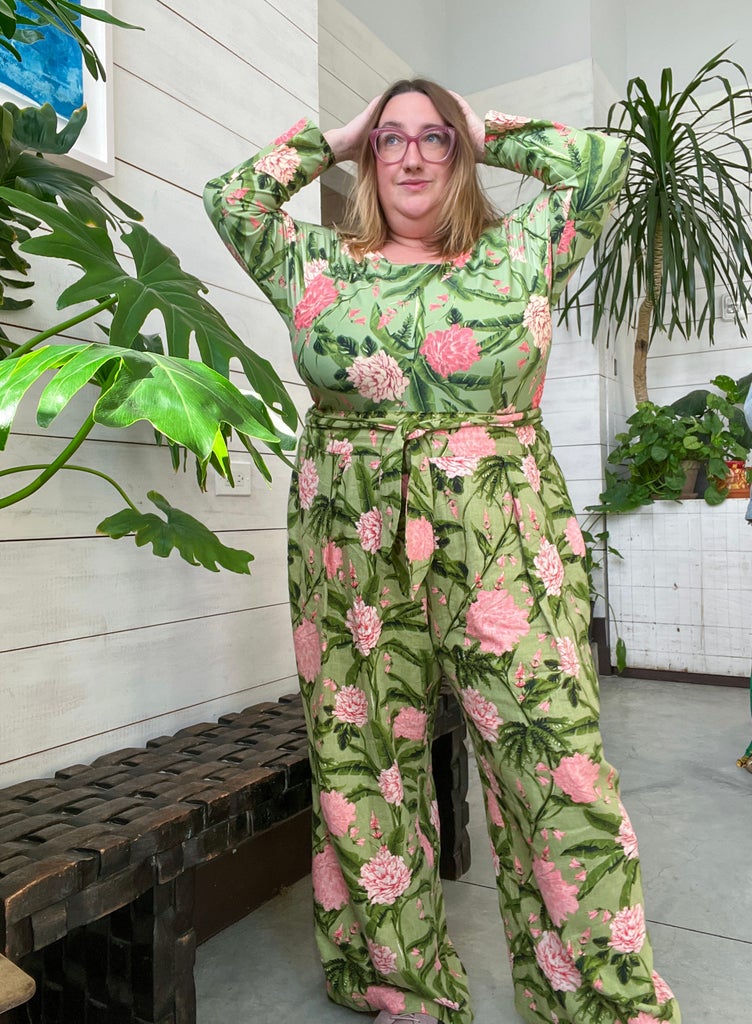 Like all the brands in this season's Designer Collection, Agua Bendita is women-owned, and Colombian designers Catalina Álvarez and Mariana Hinestroza are known for their swim designs and resortwear in colorful prints and patterns that are meant to be mixed and matched. 
With that in mind, I started out by pairing the deep plunge botanical print maillot with the coordinating pareo. As with the Fe Noel swim, I found myself impressed with the fit features, like padded adjustable straps and removable cups. This suit has a deep plunge neckline, which meant significant cleavage on me, but the versatility of those features means that it should look great on smaller busts, too. I'm wearing the 2x here and found this style to be true to size, with a little more compression than the other pieces I tried.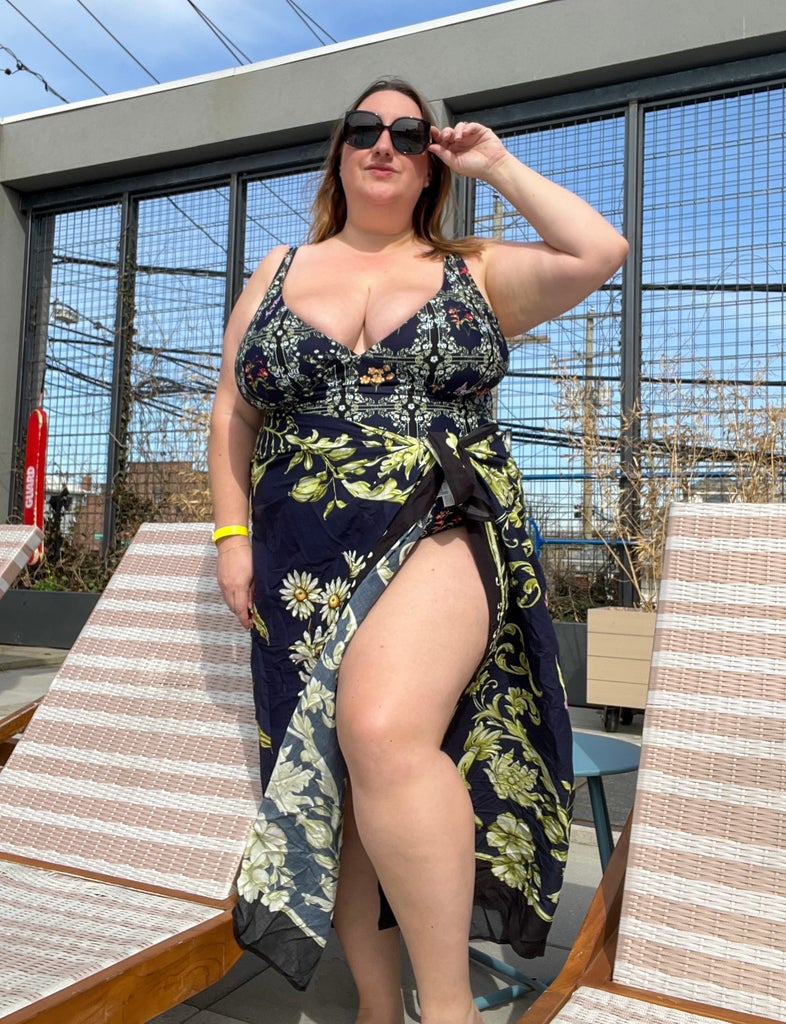 The coordinating pareo is a chic way to accessorize if you want a cohesive look, but one thing to note is that it is a "one size fits most" piece; that said, as a size 18/20, I feel like I'm on the upper end of the size range that this would wrap comfortably around.
As a naturally pale, sunburn-prone girl, I've been thrilled to see more fashionable long-sleeve suits lately, and Agua Bendita delivers with this floral one-piece. It has a built-in shelf bra with soft cups and a scoop back with a decorative tie detail. It was comfortable, though a bit roomy, in the 2x, so I'd recommend sizing down if you are torn between two sizes for this one. For another fun co-ord moment, I paired the style with the floral wide-leg linen blend pants that are true to size and lightweight without being flimsy. I definitely see these being a go-to this summer and am considering buying the matching wrap top, too.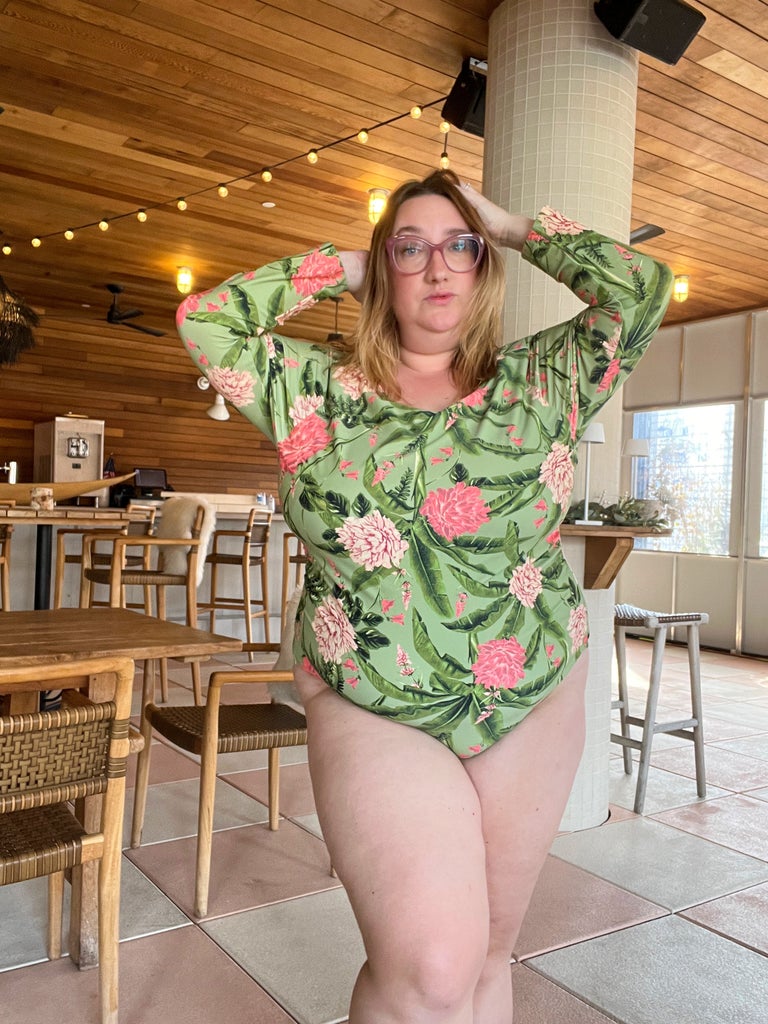 I also tried this crop top-and-mini skirt combo, made from a linen blend, and I can confirm that it looks and feels way more expensive than its actual price point. It is true to size in a 2x, and the adjustable tie straps and smocked back mean it will work well for a variety of body types. Though I really enjoyed the vintage vibe of the sunny yellow ruffle strap one piece, it was simply too big on me in the 2x, with excess fabric throughout and a too-long tail on the self-belt. Of all the styles I tried, this one ran the largest, and I'd definitely recommend sizing one full size down from your usual size.
Target x RHODE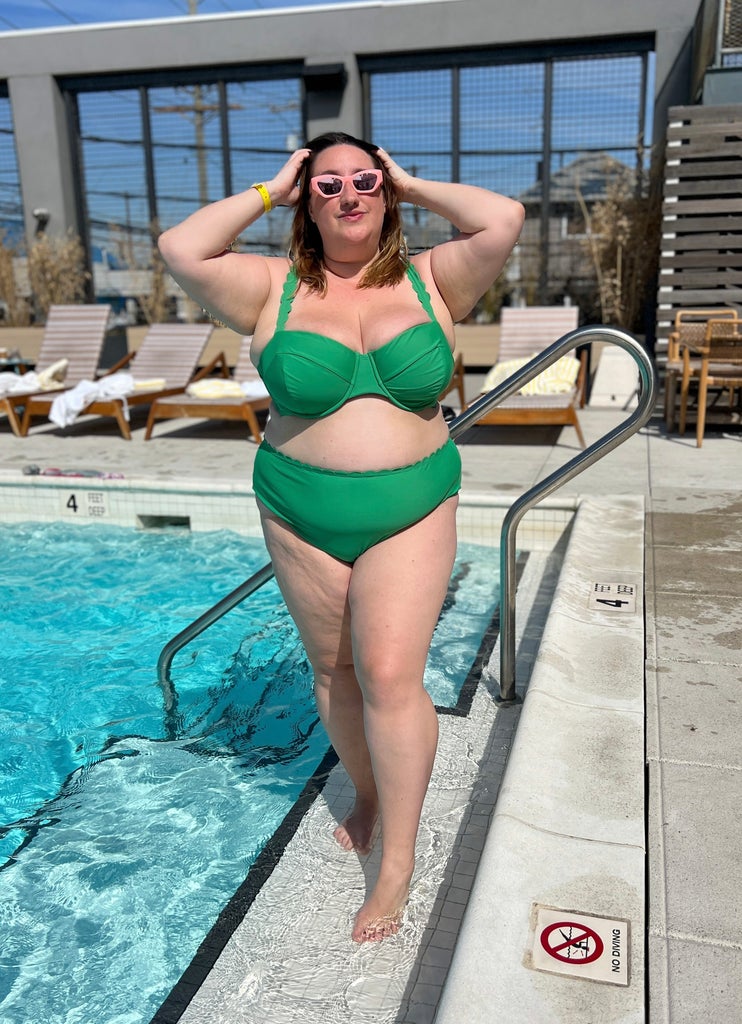 While both Fe Noel and Agua Bendita have established swim wear lines, RHODE's Target collab marks the ready-to-wear label's first foray into swim. The debut assortment has some great bikinis, but most of the string styles felt like they might be too insubstantial for my I/J cup bust.
This scallop detail number was the one exception, which coincidentally was also the swimsuit I was the most drawn to (scallop edges have always been a personal favorite). I loved the way this high-waisted two-piece looked on, but I would suggest sizing way up in the top if you have a fuller chest! I had to go up to a 24, and there was still a smidge of spillover (but nothing that would prevent me from wearing it). And even though this isn't a bra-perfect fit for larger cup sizes, the padded detailing on the adjustable back closure (something you usually see on higher-end swim) meant there was no digging in or poking. 
There are also cute one-pieces in prints in line with RHODE's color-forward apparel offerings. The floral pattern and piped edges of this halter suit read retro, but the fabric — a textured popcorn-like crinkle material — keeps it current. It is also VERY stretchy, so if I were ordering this suit again, I'd size down to the 1x.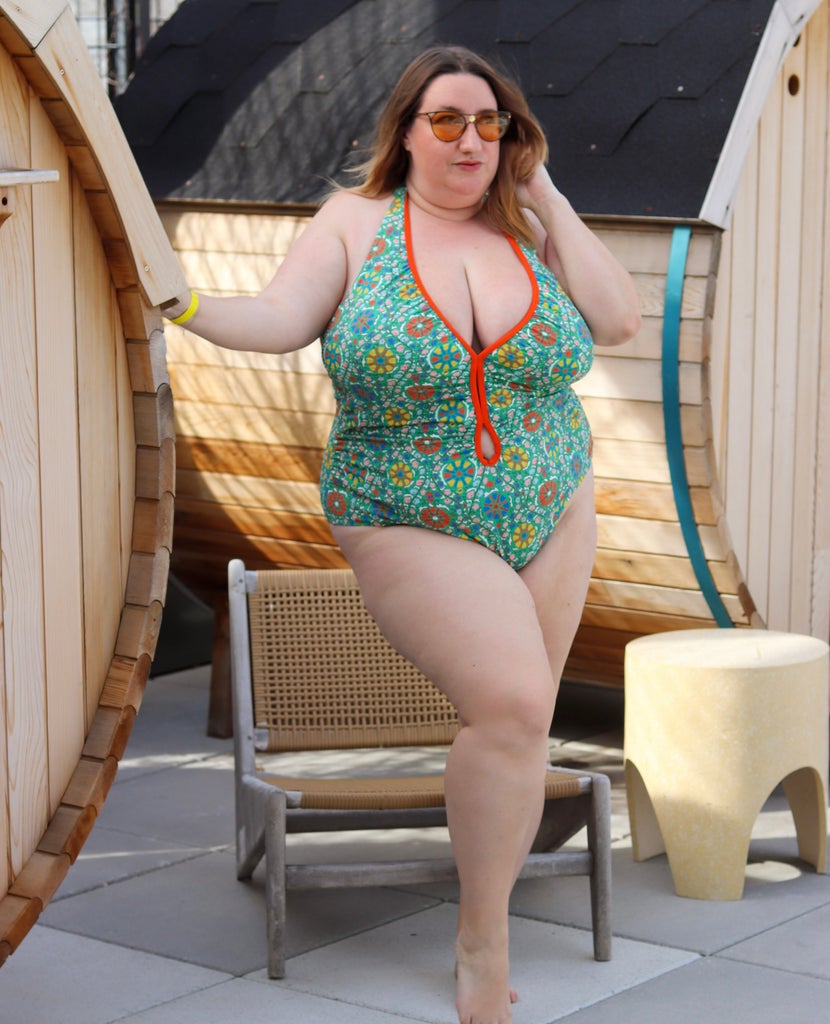 Designers Purna Khatau and Phoebe Vickers are known for great matching sets, so this striped floral co-ord was at the top of my try-on list. As soon as I put it on, I knew it was a winner. It is somehow absolutely precious without being saccharine. The crop top–maxi skirt combo feels very of the moment, and the lightweight cotton makes it breezy enough for the hottest of summer days. It layers well with the scallop bikini for a beachwear ensemble, but also would look right at home at a downtown brunch or on a picnic in the park. Unless you are blessed with extra curvy hips, I'd say size down if you are between sizes. I typically size up with non-stretch cotton, but, after experiencing how roomy this style runs, I'd get a 1x if ordering again.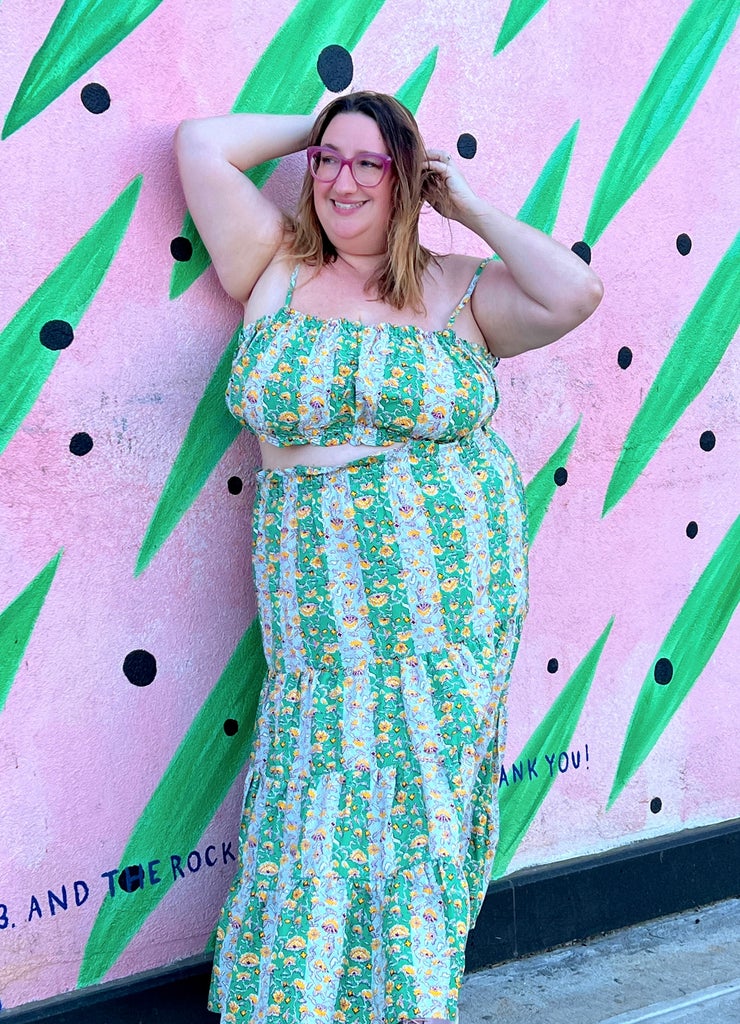 All in all, I am really impressed with this Target Spring Designer Collection. The generously sized swim is good quality for the price point and stays true to each of the designer's individual aesthetics. Each collection also has a fun assortment of pieces, including colorful sunnies, reversible bucket hats, summery crochet handbags, and even beach towels, just in case you want to accessorize all the way down to the sand. While I forgot to try out the collab's accessories, I definitely won't make that same mistake again: I already have my Target wishlist ready to go for April 15.
At Refinery29, we're here to help you navigate this overwhelming world of stuff. All of our market picks are independently selected and curated by the editorial team. All product details reflect the price and availability at the time of publication. If you buy or click on something we link to on our site, Refinery29 may earn commission.
Like what you see? How about some more R29 goodness, right here?
Target's 2023 Designer Collaboration Is With...
30 Plus-Size Swimsuits You'll Feel Confident In