4 WNBA Players On What Inspired Their Draft Day Outfits
The WNBA draft brings together star basketball players from all over the world with immaculate collegiate careers at stateside schools to announce which professional women's basketball team these stars will be drafted onto. For the 2023 WNBA draft, these talented ladies were welcomed to Spring Studios in New York City for a special night that many of them have dreamed of since they first learned how to dribble a ball. These athletes are known for their impressive basketball stats, awards, championship wins, and other high-level accolades, but we'd be remiss not to acknowledge that the draft is as much about the fashion as it is about the sport. Millions of eyes zero in on these players for arguably one of the biggest nights of their lives, and they're sure to put their most fashionable foot forward as they walk the orange carpet before entering the studio to hear what will be a life-changing draft decision. This year, the 2023 WNBA draftees didn't disappoint; every outfit emphasized the stars that they are on and off the court. Bright colored suits, dramatic dresses, glitzy bling — each choice not only represented their personalities, but also served as odes to the communities that helped get them to this point. Ahead, we caught up with top draft picks Zia Cooke, Hayley Jones, Jordan Horston, and Brea Beal on the coveted orange carpet for a rundown on the deeper meanings behind their 2023 WNBA draft day looks. Zia Cooke, South Carolina​​ Draft Pick: Los Angeles Sparks Guard; Round 1, #10 Vibe: Elegance  It takes a village to accomplish many things, and Los Angeles Sparks newbie Zia Cooke called on hers from her hometown of Ohio to be her glam squad for the big night. Cooke shared that off the court, she's super goofy and very family oriented, so it was no surprise that she recruited her friends and family to help come up with the vision for her show-stopping draft day look.  I wanted to come very classy… It's giving Grammys.zia cooke "My mom picked my hairstyle, and my friend Lauren [a Cleveland-based hairstylist] styled my hair," explained of her glam team. "It was all them; I just agreed to the things that I liked, and they just sat me down and got me right." Cooke's hair was styled in sleek, soft curls and pushed into a messy bun that featured two face-framing curled pieces and a few loose curled strands around her head to achieve the messy look. As for her makeup, she decided to go for a more natural glam look to allow her dress to make the statement — a long, frame-fitting black gown with a peek-a-boo chest cutout featuring a skin-tone mesh guard boarded by large silver embellishment appliques. "I wanted to come very classy," she said." I told my team, 'Let's go very classy!' It's giving Grammys." She played further into the upscale vibe by keeping her accessories more muted, opting for small Chanel logo earrings and a silver Cult Gaia clutch. Cooke's look may have wowed many on the carpet and on social media, but that's normal for her; she considers herself a true fashion girl off the court. "I love fashion," she shared. "My parents instilled a love of fashion in me, so I grew up watching them. I don't often get a chance to tap into my fashion bag, so it always feels good when I'm able to show that real girly side that I have. When you play basketball, you don't have a chance to do that, especially with how hard-working I am.". Cooke has demonstrated that range through a number of beauty partnerships through NIL opportunities, and she hopes to secure more in the future.  "That's what I wanna get into more" said Cooke. "Being pretty is what I love, as is being around beautiful women, and I think we deserve to show ourselves, so definitely whatever companies decide to work with me, I'm going to give it my all and see where it goes."  When asked about why she chose black for the night, Cooke revealed that she originally wanted her whole family to wear black, and she'd wear a different color to stand out. But during the designing process, the black gown screamed "classy," and that was the exact vibe she was going for. She'd been dreaming of this night since she was 6 years old, and being able to finally live that moment was truly special. "I cried when I saw myself because I had a vision," Cooke admitted. "I'm really big on fashion, so when things don't go exactly how I wanted, it hurts my feelings. I was really happy to see the look I had in my head come together." Standout: Cooke's dress was custom-made by her stylist, Maddie Alexandria, who showed her six other options before landing on the now-viral sleek black gown. Haley Jones, Stanford University Draft Pick: Atlanta Dream Guard; Round 1, #6 Vibe: Sophisticated Chic  Power suits were a common occurrence on the 2023 WNBA orange carpet, but there was none more eye-catching than Hayley Jones' bright green three-piece skirt suit with velvet shoulder pads. "My favorite color recently has been green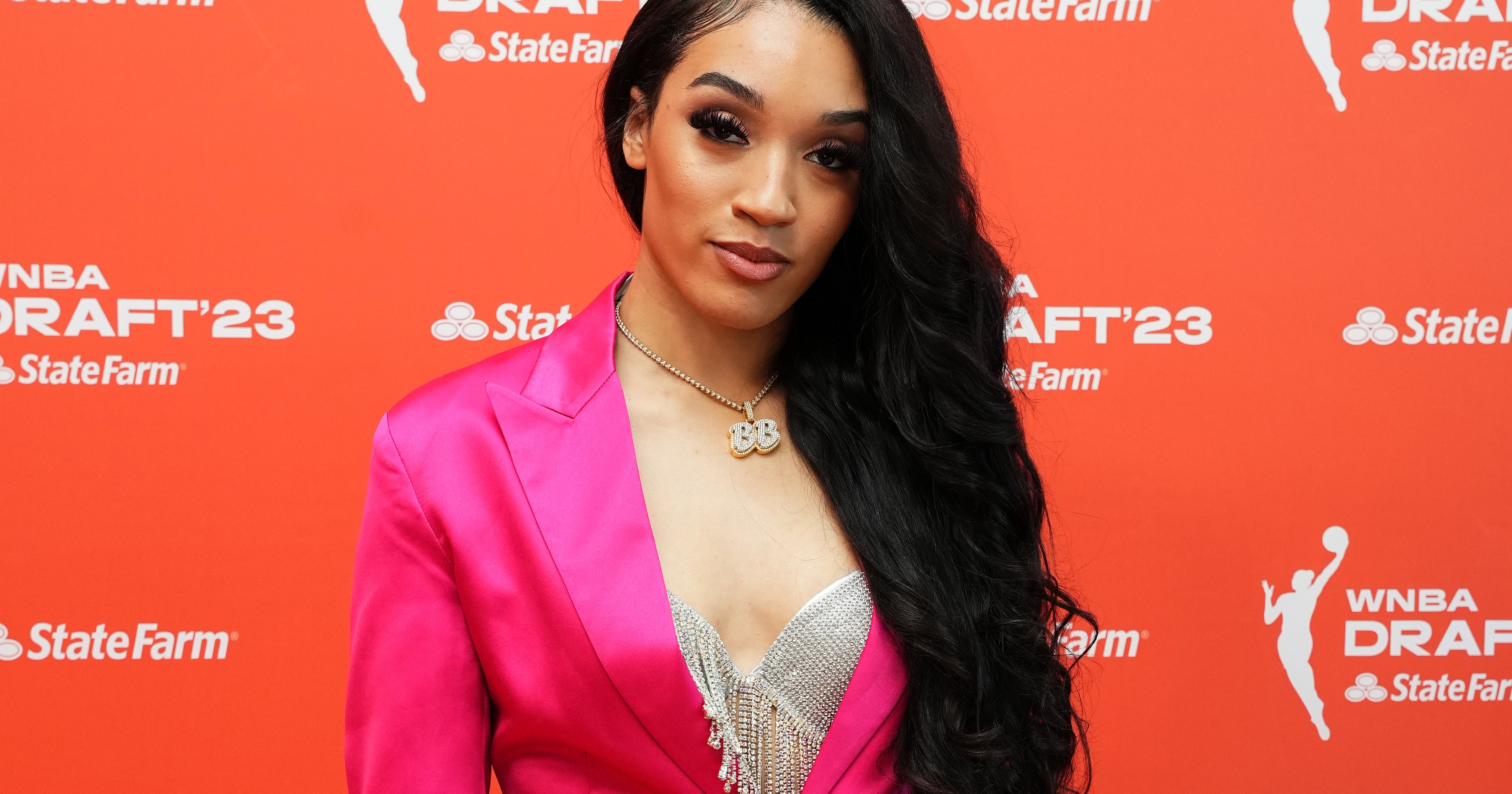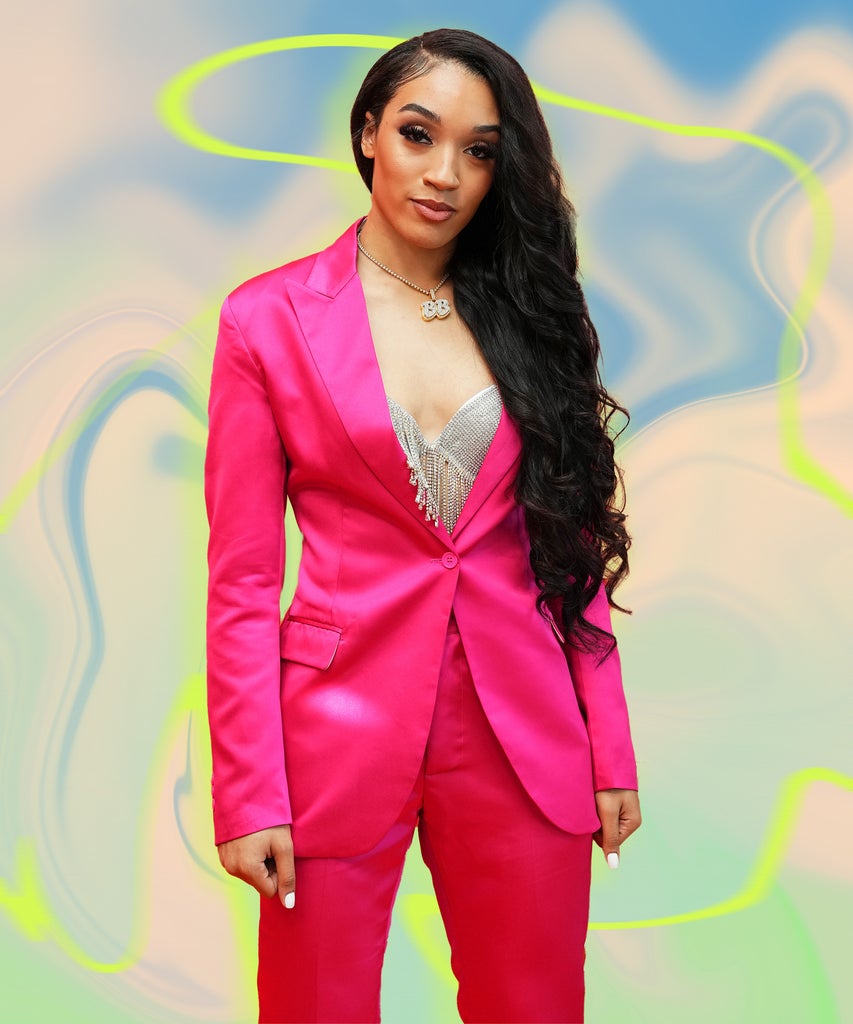 The WNBA draft brings together star basketball players from all over the world with immaculate collegiate careers at stateside schools to announce which professional women's basketball team these stars will be drafted onto. For the 2023 WNBA draft, these talented ladies were welcomed to Spring Studios in New York City for a special night that many of them have dreamed of since they first learned how to dribble a ball. These athletes are known for their impressive basketball stats, awards, championship wins, and other high-level accolades, but we'd be remiss not to acknowledge that the draft is as much about the fashion as it is about the sport. Millions of eyes zero in on these players for arguably one of the biggest nights of their lives, and they're sure to put their most fashionable foot forward as they walk the orange carpet before entering the studio to hear what will be a life-changing draft decision.
This year, the 2023 WNBA draftees didn't disappoint; every outfit emphasized the stars that they are on and off the court. Bright colored suits, dramatic dresses, glitzy bling — each choice not only represented their personalities, but also served as odes to the communities that helped get them to this point. Ahead, we caught up with top draft picks Zia Cooke, Hayley Jones, Jordan Horston, and Brea Beal on the coveted orange carpet for a rundown on the deeper meanings behind their 2023 WNBA draft day looks.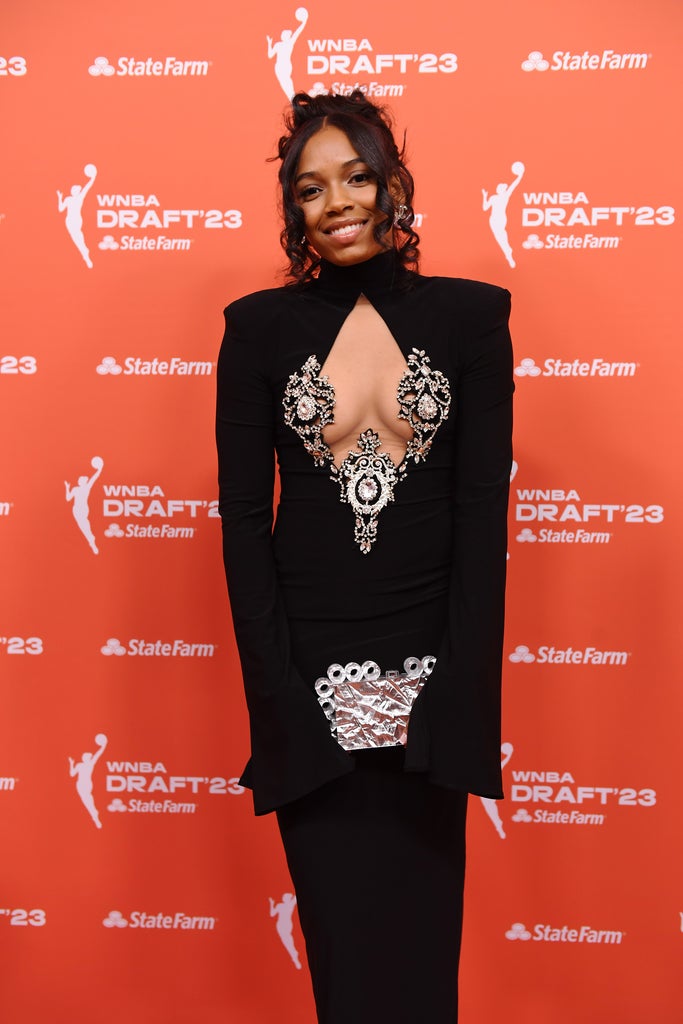 Draft Pick: Los Angeles Sparks Guard; Round 1, #10
Vibe: Elegance 
It takes a village to accomplish many things, and Los Angeles Sparks newbie Zia Cooke called on hers from her hometown of Ohio to be her glam squad for the big night. Cooke shared that off the court, she's super goofy and very family oriented, so it was no surprise that she recruited her friends and family to help come up with the vision for her show-stopping draft day look. 
"My mom picked my hairstyle, and my friend Lauren [a Cleveland-based hairstylist] styled my hair," explained of her glam team. "It was all them; I just agreed to the things that I liked, and they just sat me down and got me right." Cooke's hair was styled in sleek, soft curls and pushed into a messy bun that featured two face-framing curled pieces and a few loose curled strands around her head to achieve the messy look. As for her makeup, she decided to go for a more natural glam look to allow her dress to make the statement — a long, frame-fitting black gown with a peek-a-boo chest cutout featuring a skin-tone mesh guard boarded by large silver embellishment appliques. "I wanted to come very classy," she said." I told my team, 'Let's go very classy!' It's giving Grammys." She played further into the upscale vibe by keeping her accessories more muted, opting for small Chanel logo earrings and a silver Cult Gaia clutch.
Cooke's look may have wowed many on the carpet and on social media, but that's normal for her; she considers herself a true fashion girl off the court. "I love fashion," she shared. "My parents instilled a love of fashion in me, so I grew up watching them. I don't often get a chance to tap into my fashion bag, so it always feels good when I'm able to show that real girly side that I have. When you play basketball, you don't have a chance to do that, especially with how hard-working I am.". Cooke has demonstrated that range through a number of beauty partnerships through NIL opportunities, and she hopes to secure more in the future. 
"That's what I wanna get into more" said Cooke. "Being pretty is what I love, as is being around beautiful women, and I think we deserve to show ourselves, so definitely whatever companies decide to work with me, I'm going to give it my all and see where it goes."
 When asked about why she chose black for the night, Cooke revealed that she originally wanted her whole family to wear black, and she'd wear a different color to stand out. But during the designing process, the black gown screamed "classy," and that was the exact vibe she was going for. She'd been dreaming of this night since she was 6 years old, and being able to finally live that moment was truly special. "I cried when I saw myself because I had a vision," Cooke admitted. "I'm really big on fashion, so when things don't go exactly how I wanted, it hurts my feelings. I was really happy to see the look I had in my head come together."
Standout: Cooke's dress was custom-made by her stylist, Maddie Alexandria, who showed her six other options before landing on the now-viral sleek black gown.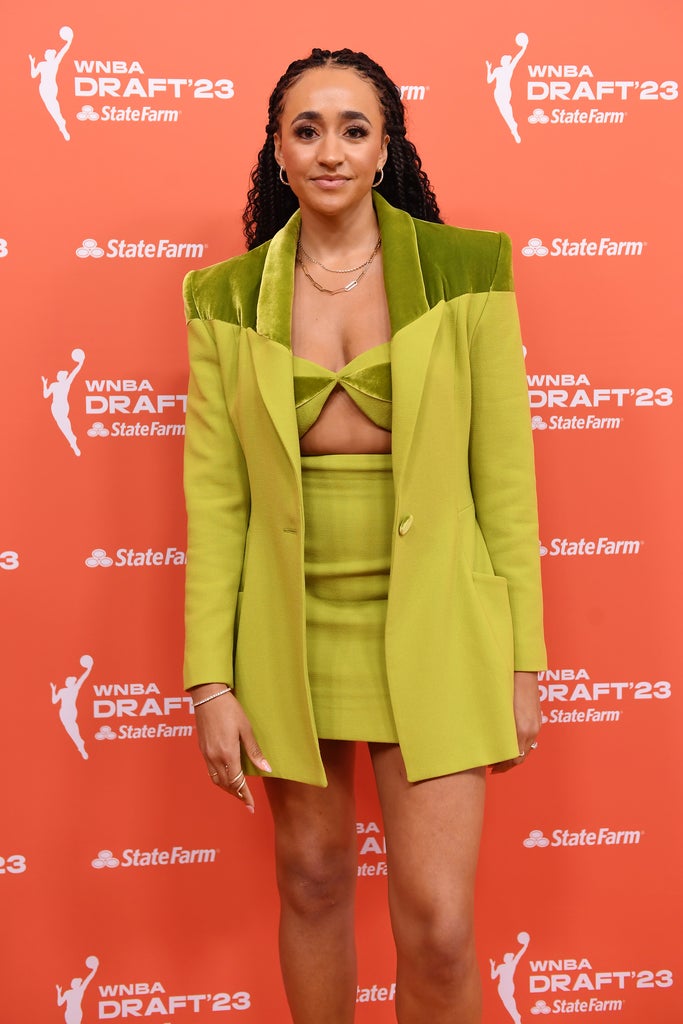 Draft Pick: Atlanta Dream Guard; Round 1, #6
Vibe: Sophisticated Chic 
Power suits were a common occurrence on the 2023 WNBA orange carpet, but there was none more eye-catching than Hayley Jones' bright green three-piece skirt suit with velvet shoulder pads. "My favorite color recently has been green, so we decided to go with this spring look by Sergio Hudson," she said. The look was paired with gold metallic shoes by Not Your Average Size, which Jones noted are "made for the tall girls." Jones also decided to keep her hair, makeup, and jewelry very sleek and understated to ensure the fashion was the focal point. 
"I like beauty and fashion, and I felt like tonight was the night to really step out with a pop of color." Jones offered. "I wanted the outfit to be the centerpiece of the look, and everything else was just an add-on. I have a little bit of bling and my nails are done, but the set is the main thing." Her hair was in box braids that were framed away from her face and featured loose curls, and for her makeup, she opted for natural glam. ("I like to look glowy and to look like me, but a little elevated for the occasion," Jones smiled.)
As for why she decided to pick such a unique suit set, Jones said that she was determined to make a statement. "I was trying to show confidence. This is a power suit, and I feel like I'm about 70% legs, so I figured I'd show them. My outfit really just shows that I'm confident, chic, and professional, but also that I can show a little skin and still keep that modesty to it." 
Standout: Jones added a heart-warming sentimental touch to her big night look. "I'm wearing my great-grandmother's rings to make sure she's here with me today," she said.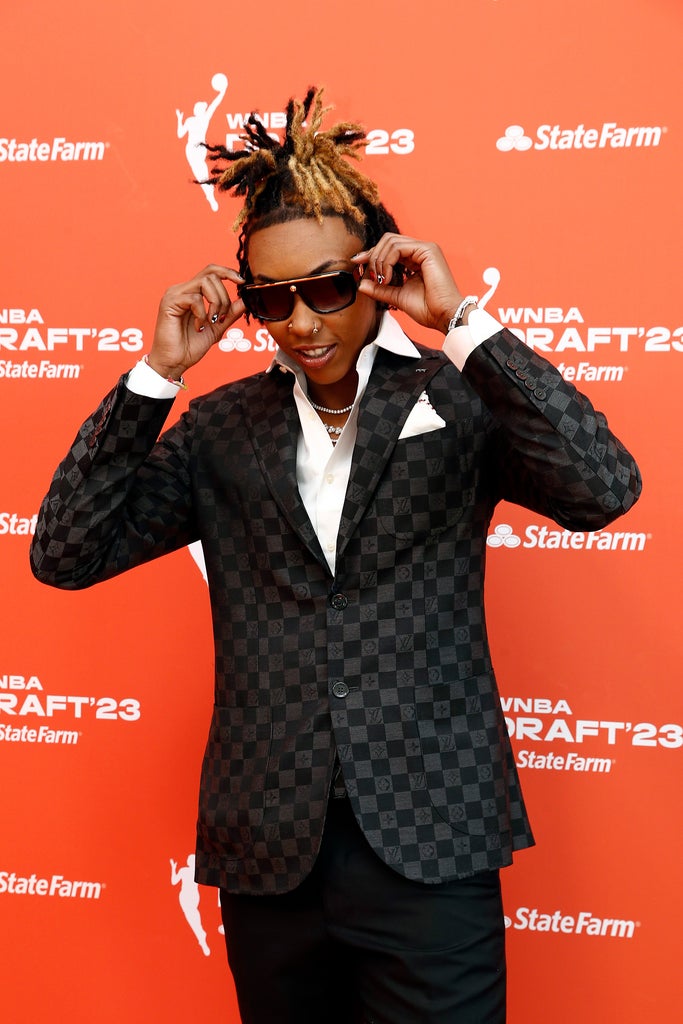 Draft Pick: Seattle Storm Guard; Round 1, #9
Vibe: Sleek & Tailored 
Jordan Horston's style is much like her personality: unique, outgoing, with a quiet confidence you can't miss. She strolled onto the carpet in a head-to-toe sleek, almost all-black designer look, courtesy of Louis Vuitton. The look consisted of a black and gray checkered LV monogram blazer on top of a white button-up paired with black slacks and matching black LV monogram loafers. 
"My personal style is very unique. I'm different, I'm definitely a trendsetter, I'm a leader," Horston answered passionately on the carpet. "Everything about me has a little spice to it. I'm like the seasoned chicken that your grandma cooked." In other words, her taste in clothing is impeccable. (Although her orange carpet looked sharp and well-put together, she'd actually purchased it just the night before. "Honestly, it was last-minute thrown together. It was simple, but you can see it. I literally got it yesterday," she admitted with a sheepish grin.)
To add to the swag of her look, Horston styled her black and blonde-dyed locs in a half-up, half-down ponytail style and finished the look off, dripping in diamonds. She layered three different-sized diamond necklaces that matched a diamond bracelet and earrings supplied by Happy Jewelers. Horston defined her orange carpet fashion as "calm and clean" and revealed that she was styled by her stylist Chloe and her agents, Marcus and Brandon. Not to be forgotten, Horston's manicure also took the look up several notches, featuring several designs like a matching checkered print, a red fire print, and bling. 
Horston's swag and persona speak for themselves: "I'm different; I can switch it up; I can really put on anything and work it out."
Standout: Horston revealed that her sleek, tailored Louis Vuitton fit was not pre-planned and was purchased the night before.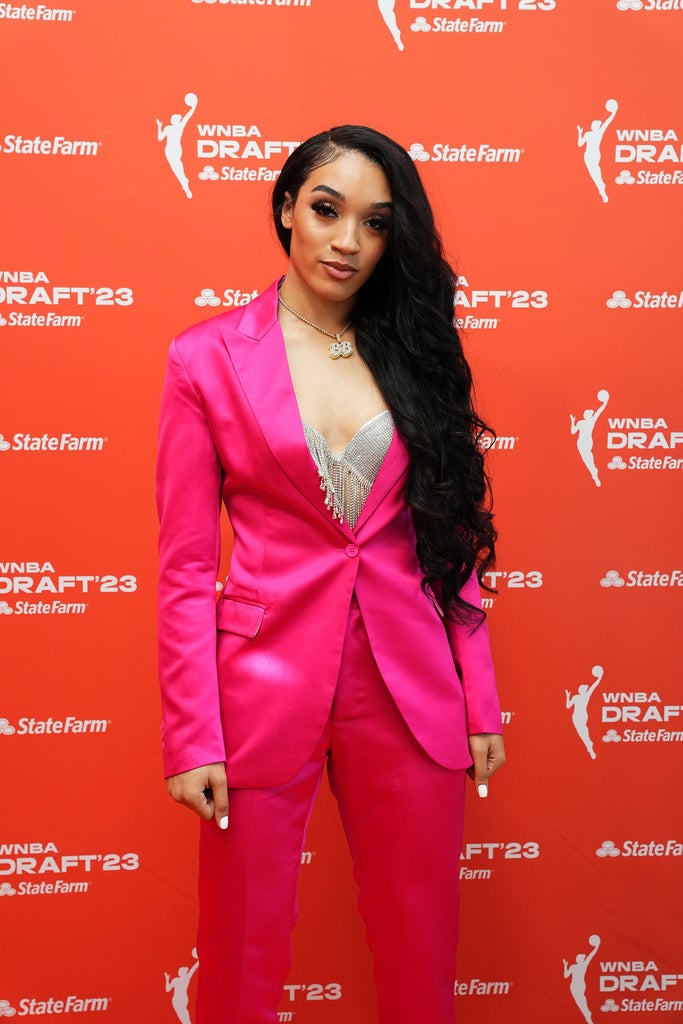 Draft Pick: Minnesota Lynx Guard; Round 2, #24
Vibe: Pop of Personality 
Vibrant spring colors were a hit for a few of the WNBA hopefuls, and Brea Beal did not disappoint in a hot pink tailored power suit. Beal excitedly revealed that her favorite color is pink — so much so that when she got her individual lashes done for draft night, she made sure to request that hot pink strips be included in the set. Though she doesn't necessarily identify as a beauty girl, Beal simply cannot go without one beauty essential: lashes. "I love lashes," she said. "A lot of the lash girls know that when they're off, you feel like a whole different person" For the rest of her glam, however, she wanted to lean into her preference for understated  makeup for her draft night. "I'm more of a natural girl, and if I do makeup, it's more of like concealer because I feel like if I try to go for a full face, it would be a whole different shade than my neck." She trusted her makeup artist fully, and they went for a soft glam look with a little smokiness at the lash line and a pop of pink to align with her outfit.
To add drama to the more natural makeup, Beal picked out  a bralette that was covered in crystals on the cups and featured crystals dripping off asymmetrically. She also wore a custom diamond necklace that featured her initials, and she finished the look with black and silver blinged-out lace-up heels that added the perfect amount of sparkle to peek out from her perfectly tailored hot pink suit pants. Of course, everything was in her favorite color. "I love pink; in general, it's like my favorite color, like hot pink, so I think my outfit will show personality."
Standout: Beal added pink individual lashes to her set for draft night. Beal also swapped out the diamond necklace she usually wears sporting her boyfriend's initials "JH" for a diamond necklace featuring her own "BB" initials.
Like what you see? How about some more R29 goodness, right here?
Chiney Ogwumike Empower Gen Z Creatives
Skylar Diggins-Smith Debuts PUMA Collection