I Tried This Sustainable Clothing Rental For A Year & — It Helped Me Find My Confidence
Clothing has never been an expense I've invested in. As someone with a fairly meager paycheck and a constantly fluctuating body size, I decided to run my clothes into the ground rather than cash in on pricey splurge items. But after a decade of wearing threadbare leggings and oversized sweaters, my body image rapidly deteriorated, along with my self-confidence. I no longer wanted to look at myself in the mirror and stopped taking care of myself — not just with the lack of quality in the clothes I wore, but I lived life as if I were invisible.It turns out I'm not alone, and there's actually psychology to back this up mental health phenomenon. Carolyn Mair, PhD., who wrote the book Psychology of Fashion tells me, "It's stressful for us if we don't feel comfortable in what we're wearing. If we're really worrying that it's appropriate or it's suitable, or we don't feel confident in what we're wearing." The negative effects of stress can lead to a whole slew of mental and physical ailments, according to Mayo Clinic (depression, anxiety, perpetual stomach aches, high blood pressure, etc. etc.). But after so many years, I didn't even realize that my self-esteem had taken such a hit until my sister gifted me with a monthly clothing subscription called Nuuly for my birthday. After yet another major body size fluctuation, she thought it would be fun to have a no-strings way to try out some new clothing styles and refresh my closet with something other than Amazon leggings. Though I was reticent, I figured on her dime? Why not. After all, I could cancel it after one month if it didn't suit me. A year later, I'm still renewing my Nuuly subscription, and it's taken me on a journey I could never have predicted. Nuuly Clothing Rental, $88/month The idea of Nuuly isn't revolutionary by any means. In fact, Rent the Runway has been offering a monthly clothing rental service since 2016, but while RTR's virtual shelves are stocked with designer frocks by Carolina Herrera and Oscar de la Renta, more suited to wearing to a blacktie wedding than to picking up groceries, Nuuly is filled with more accessible brands. Owned by URBN, Nuuly's inventory is like walking around a really nice mall with all your favorite stores' newest styles available. Anthropologie, Urban Outfitters, Free People, and Agolde are just the tip of hundreds of available brands that you already know and shop.Its model is simple and effective. For one monthly fee, you can pick out six items to rent, and then send them back in the bag they arrived in with the included prepaid label. Once your items are received, you do it all over again. Or, if you really love an item, you can purchase it for a discounted rate. Sounds pretty easy, right?If you're a born shopper, it's stupidly easy. However, despite the incredibly thoughtful gift, I was feeling pretty gunshy about shopping. Not only did I have no idea what size my body was (it'd been a loooong time since I wore anything without a lot of stretch in it), but I also had no clue what anyone was wearing. Trends? What were those? We don't know her. Still, I pushed forward and sampled what I thought I should try (three pairs of jeans in different styles, a work-appropriate skirt and blazer, and a funky jacket I would never have tried on otherwise). Despite my discomfort with shopping, though, I was immediately impressed at the wide range of styles and sizes. They have ample plus -ize options, as well as maternity and petite-specific clothing. My first rentals arrived within three days of ordering, straight to my front door. And I hated it. Truly. I almost gave my sister back her money because I hated it so much. I felt itchy in my own skin, and when my sister asked for selfies in all the different outfits, I realized I hadn't taken a picture of my full body in longer than I could remember (I went searching on my phone and found one from 2017). I realized quickly that I'd pushed myself too far too soon. So I took a step back. For my second month (yes, I decided to try out a second month at my sister's pushing), I rented six oversized sweaters to pair with my leggings. I don't regret that choice at all. In fact, I attribute my shift to enjoying shopping to this month. It had been so long since I had paid so much attention to myself that it felt extremely overwhelming. Seeing myself in a familiar silhouette enabled me to warm up to the idea of taking full-body pictures. (Plus, it was December in NYC, and it was freezing and sweaters made sense!). I fell in love and immediately signed up for another month. I did get a few oversized sweaters, but I also rented two special occasion dresses to wear during the holidays. Looking at the pictures now, I realize it's the first time I smiled in a full-body picture of myself. It's not that I suddenly looked different — it was much slower than that. It was a small boost of confidence to see myself in something that felt like me that wasn't just a sweater an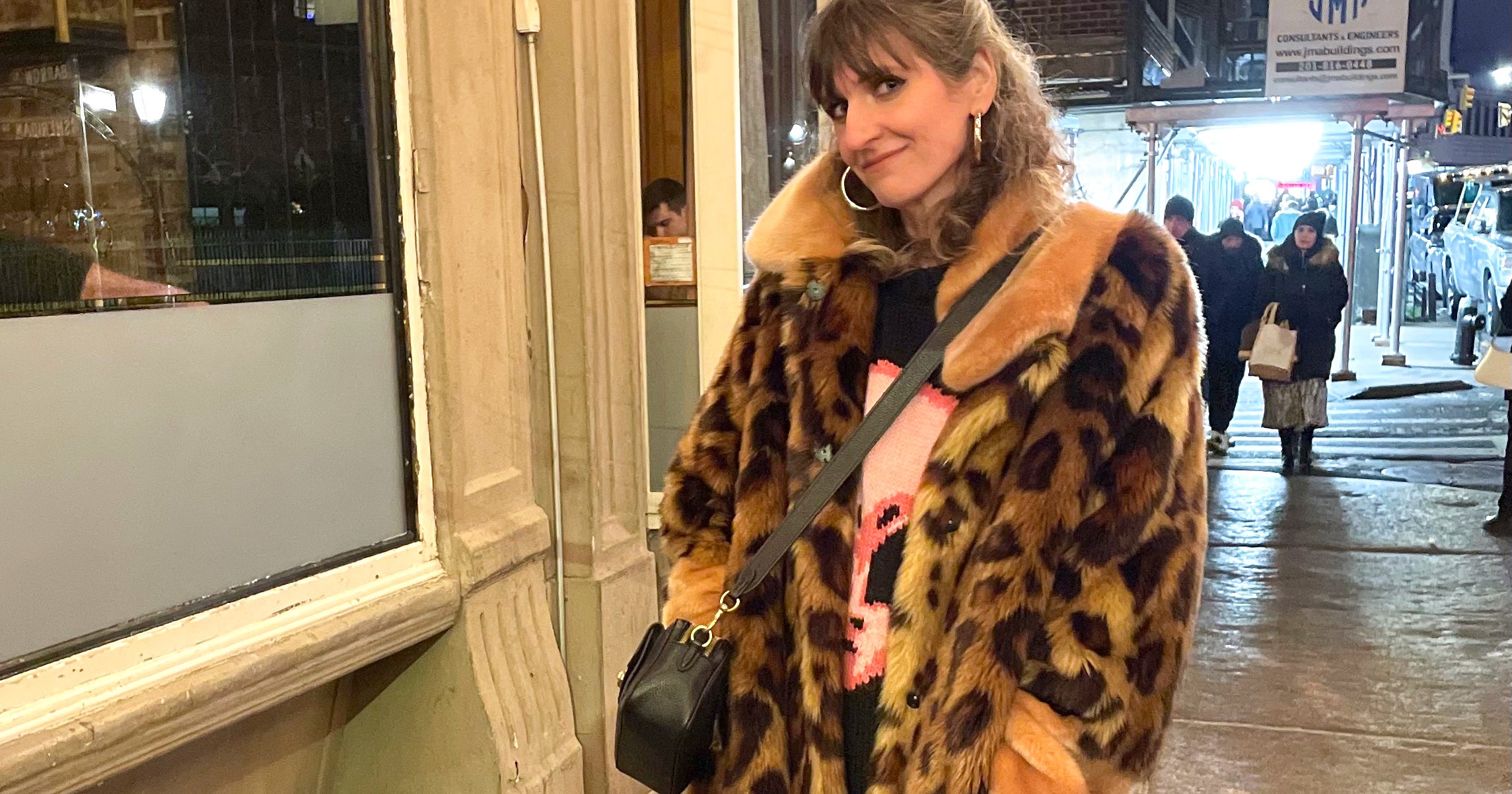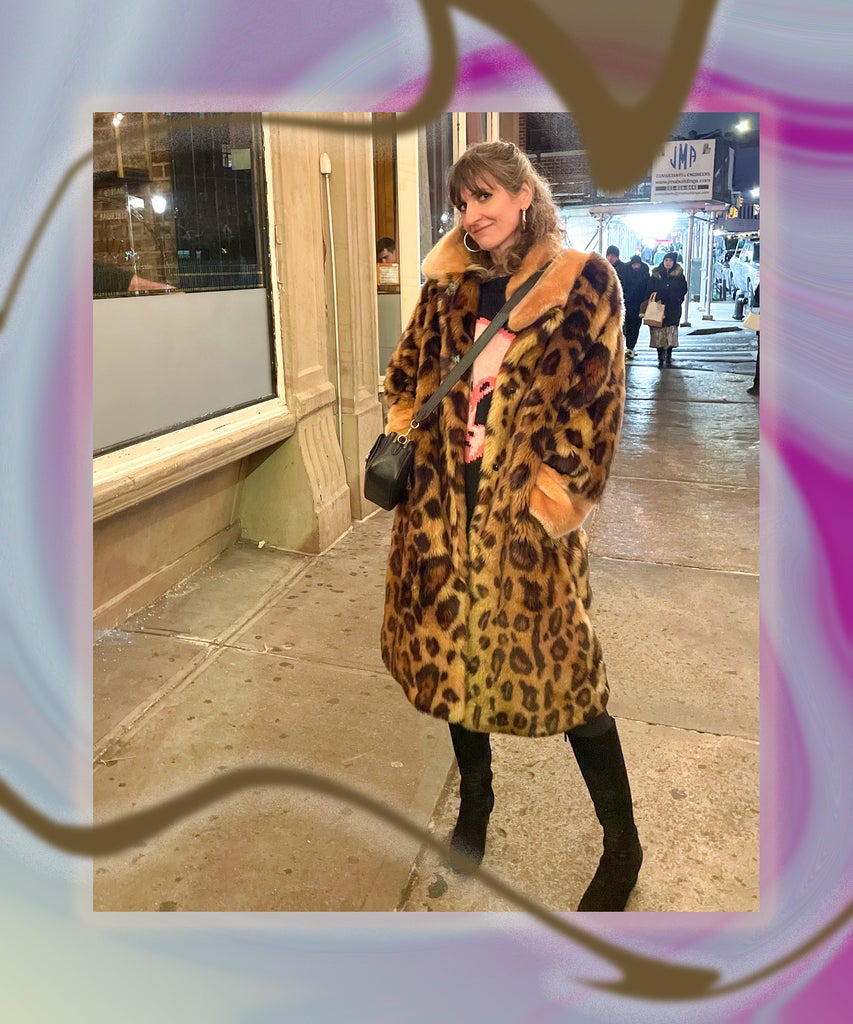 Clothing has never been an expense I've invested in. As someone with a fairly meager paycheck and a constantly fluctuating body size, I decided to run my clothes into the ground rather than cash in on pricey splurge items. But after a decade of wearing threadbare leggings and oversized sweaters, my body image rapidly deteriorated, along with my self-confidence. I no longer wanted to look at myself in the mirror and stopped taking care of myself — not just with the lack of quality in the clothes I wore, but I lived life as if I were invisible.

It turns out I'm not alone, and there's actually psychology to back this up mental health phenomenon. Carolyn Mair, PhD., who wrote the book Psychology of Fashion tells me, "It's stressful for us if we don't feel comfortable in what we're wearing. If we're really worrying that it's appropriate or it's suitable, or we don't feel confident in what we're wearing." The negative effects of stress can lead to a whole slew of mental and physical ailments, according to Mayo Clinic (depression, anxiety, perpetual stomach aches, high blood pressure, etc. etc.). But after so many years, I didn't even realize that my self-esteem had taken such a hit until my sister gifted me with a monthly clothing subscription called Nuuly for my birthday. After yet another major body size fluctuation, she thought it would be fun to have a no-strings way to try out some new clothing styles and refresh my closet with something other than Amazon leggings. Though I was reticent, I figured on her dime? Why not. After all, I could cancel it after one month if it didn't suit me. A year later, I'm still renewing my Nuuly subscription, and it's taken me on a journey I could never have predicted.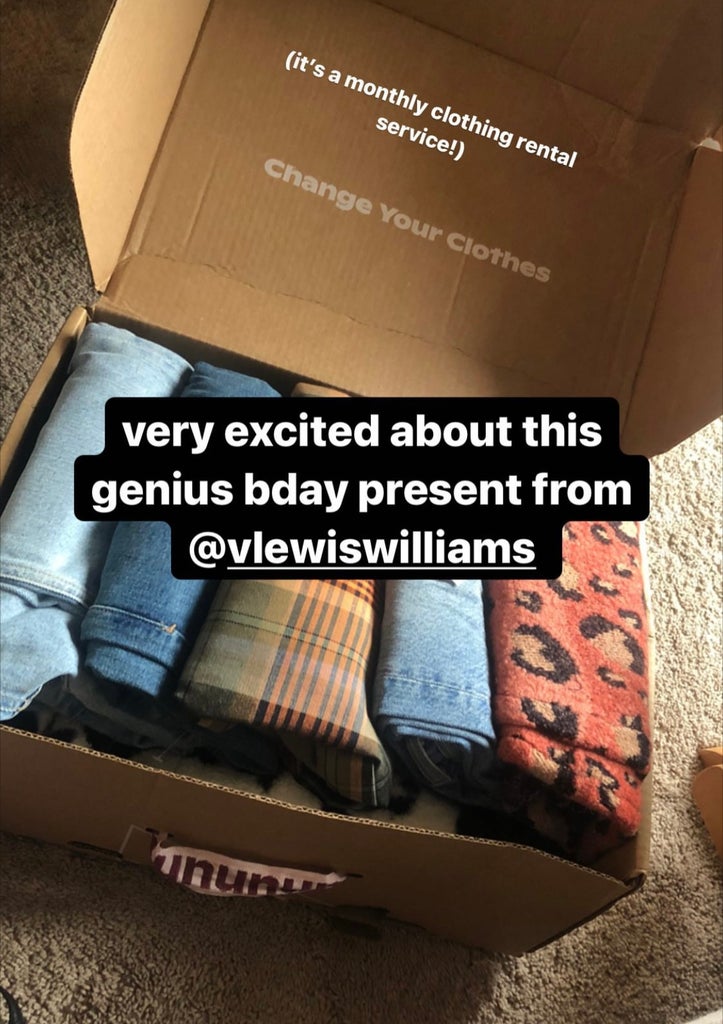 The idea of Nuuly isn't revolutionary by any means. In fact, Rent the Runway has been offering a monthly clothing rental service since 2016, but while RTR's virtual shelves are stocked with designer frocks by Carolina Herrera and Oscar de la Renta, more suited to wearing to a blacktie wedding than to picking up groceries, Nuuly is filled with more accessible brands. Owned by URBN, Nuuly's inventory is like walking around a really nice mall with all your favorite stores' newest styles available. Anthropologie, Urban Outfitters, Free People, and Agolde are just the tip of hundreds of available brands that you already know and shop.

Its model is simple and effective. For one monthly fee, you can pick out six items to rent, and then send them back in the bag they arrived in with the included prepaid label. Once your items are received, you do it all over again. Or, if you really love an item, you can purchase it for a discounted rate. Sounds pretty easy, right?

If you're a born shopper, it's stupidly easy. However, despite the incredibly thoughtful gift, I was feeling pretty gunshy about shopping. Not only did I have no idea what size my body was (it'd been a loooong time since I wore anything without a lot of stretch in it), but I also had no clue what anyone was wearing. Trends? What were those? We don't know her. Still, I pushed forward and sampled what I thought I should try (three pairs of jeans in different styles, a work-appropriate skirt and blazer, and a funky jacket I would never have tried on otherwise). Despite my discomfort with shopping, though, I was immediately impressed at the wide range of styles and sizes. They have ample plus -ize options, as well as maternity and petite-specific clothing.
My first rentals arrived within three days of ordering, straight to my front door. And I hated it. Truly. I almost gave my sister back her money because I hated it so much. I felt itchy in my own skin, and when my sister asked for selfies in all the different outfits, I realized I hadn't taken a picture of my full body in longer than I could remember (I went searching on my phone and found one from 2017). I realized quickly that I'd pushed myself too far too soon. So I took a step back. For my second month (yes, I decided to try out a second month at my sister's pushing), I rented six oversized sweaters to pair with my leggings.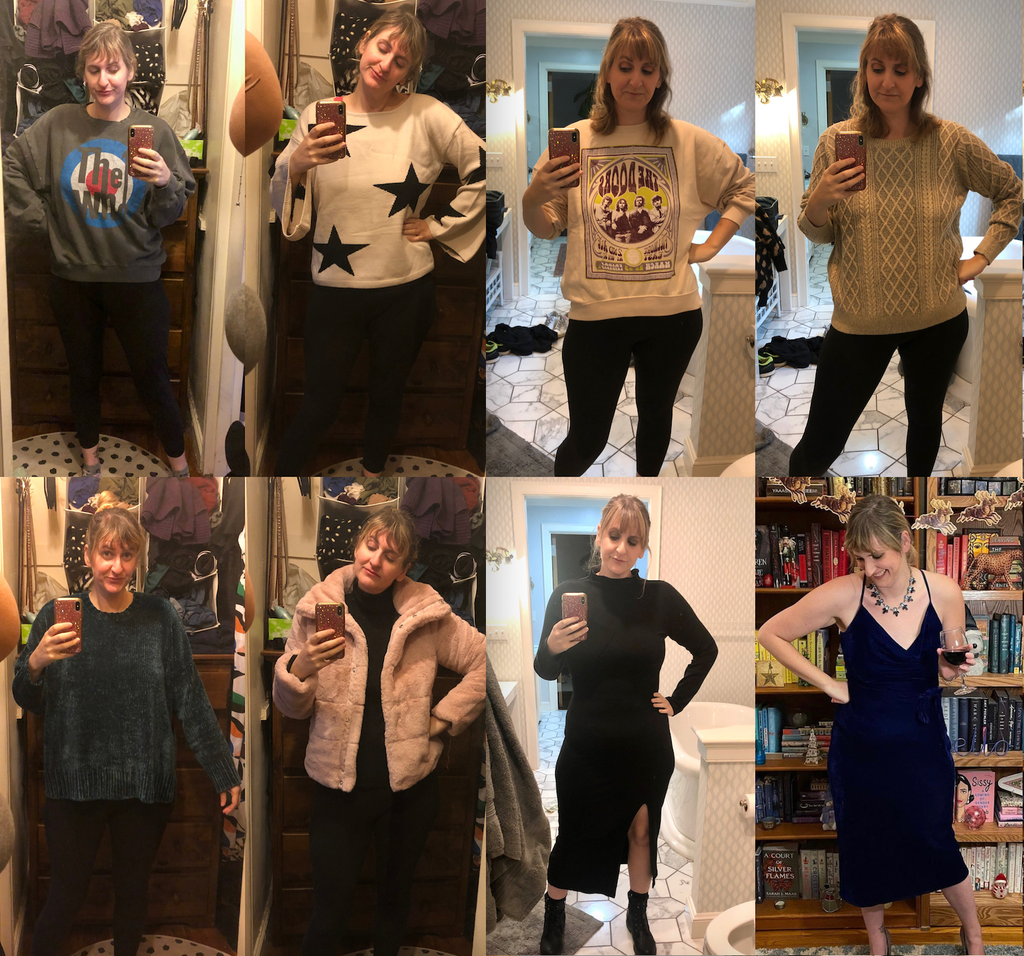 I don't regret that choice at all. In fact, I attribute my shift to enjoying shopping to this month. It had been so long since I had paid so much attention to myself that it felt extremely overwhelming. Seeing myself in a familiar silhouette enabled me to warm up to the idea of taking full-body pictures. (Plus, it was December in NYC, and it was freezing and sweaters made sense!). I fell in love and immediately signed up for another month. I did get a few oversized sweaters, but I also rented two special occasion dresses to wear during the holidays. Looking at the pictures now, I realize it's the first time I smiled in a full-body picture of myself. It's not that I suddenly looked different — it was much slower than that. It was a small boost of confidence to see myself in something that felt like me that wasn't just a sweater and leggings. But also I was shocked at how much I started to enjoy shopping. If I had reloaded my closet with more permanent items, I probably would have stuck to basics, but because I was only renting the clothes for a few weeks, I felt more comfortable taking more risks, especially with trendy seasonal items.

If you're a person who wants to try out trends without committing to them (or relying on cheap fast fashion items), this is a really great way to enjoy trends affordably. Not to mention, I started loving the sustainable fashion aspect of the clothing rental. While I'd never really thought about it before (I seriously wore the same three pairs of leggings for a decade, okay?), wearing clothes and cycling them to someone else made me feel a lot better about testing out clothes, too. For those who are interested in sustainability, Nuuly is a great way to go. By using a clothing rental service, you extend the life of any piece of fashion, but Nuuly also has an upcycling program to repurpose damaged clothes and also offers options to thrift styles at a low, low price once they go out of circulation.
For example: one of my favorite items I rented last year was a vintage Blondie band tee, which made me realize that I could be a skirt person. Previously, I'd swapped my oversized sweaters for oversized tanks in the summer. When I got a slimmer-fit tee, however, I found I could match it with a flouncy summer skirt and still feel like myself. In fact, I could still pair that with my trusty (extremely worn) combat boots (Nuuly hasn't branched into accessories yet, but I'm not sure second-hand shoes are the way either). After finding out I loved wearing skirts, there was no looking back. I explored matching separates, rompers, cut-out maxi dresses — anything that I could still accessorize to feel like myself and feel confident wearing. And I'm never looking back.

Before I knew it, I was smiling in pictures constantly. It's not that wearing trendy clothes magically cured my depression; it did not (I am medicated and go to weekly therapy!). But, without Nuuly enabling me to take a risk and splurge on myself, I'm not sure I would've ever been comfortable looking at myself in the mirror. Now, there's not a mirror I don't pass that I don't look into. My confidence is at an all-time high, and I've been able to make a ton of other positive changes in my life because I'm feeling so good.

Not only that, but my former camera-shy self has transformed into a total diva. I find myself roping my girlfriend into impromptu photoshoots wherever we go, and I even post them on my Instagram grid for the internet to see. Not only has my experience with Nuuly made me fall back in love with clothes (who knew I enjoyed body con dresses and cropped silhouettes?), but also myself. Full disclosure: an oversized sweater or two still sneak into my monthly shipments, but that's okay. There's no limit on what I can wear now, and I'm fully taking advantage of that. Nuuly has options for comfort, holiday dinners, changing bodies, diverse body shapes, and so much more. Try it out, or do your friend a solid and gift it (Mother's Day is coming up, and did I mention they're good for rapidly shifting body sizes?). I'll be re-upping my subscription for another year and will continue to smile about it.
At Refinery29, we're here to help you navigate this overwhelming world of stuff. All of our market picks are independently selected and curated by the editorial team. All product details reflect the price and availability at the time of publication. If you buy or click on something we link to on our site, Refinery29 may earn commission.
Like what you see? How about some more R29 goodness, right here?
42 Trending Wedding Guest Dress Styles
11 Sustainable Beauty Products R29 Editors Love