The climate change debate dividing the World Bank
Addressing climate change by transitioning the world's power grids, automobiles and industries to greener sources will cost trillions — and Janet Yellen and European authorities have no desire for massive new spending right now.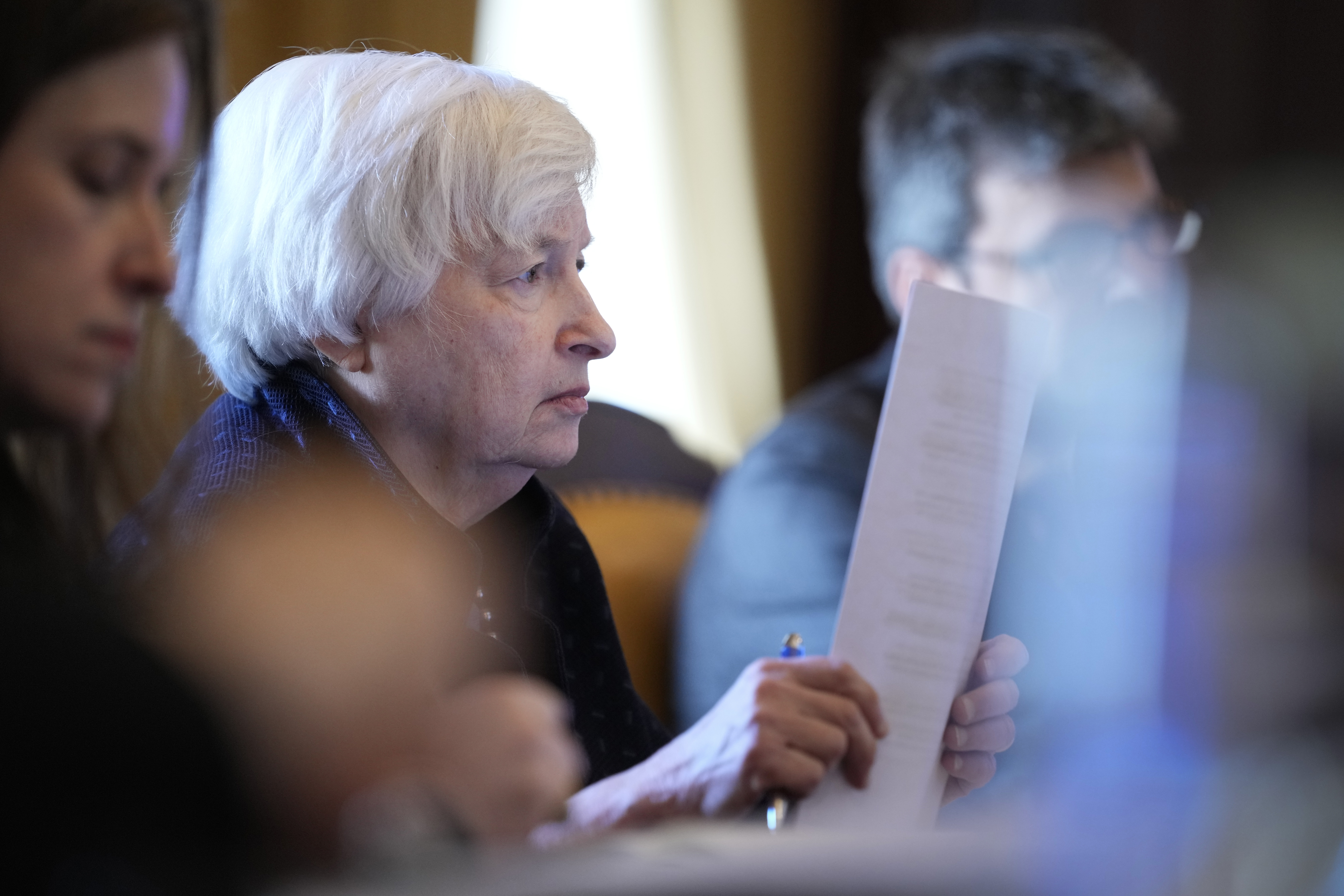 U.S. Treasury Secretary Janet Yellen and other top financial officials are vowing to reshape the World Bank to make it a leader in the battle against climate change.
They just don't want to pay for it — at least not yet.
They've proposed a plan for the global lender that's dominating discussions at the bank's annual spring meeting in Washington this week. It calls on the poverty-fighting institution to vastly broaden its approach to focus more on new challenges like debt distress and food insecurity, as well as climate.
Yet addressing climate change by transitioning the world's power grids, automobiles and industries to greener sources will cost trillions — and Yellen and European authorities have no desire for massive new spending right now.
Some World Bank allies say the planned overhaul is doomed if not adequately funded by shareholders like the U.S. and EU — leaving staff stranded between focusing on climate and the bank's traditional mandate of eradicating poverty.
"The conversation about stretching the balance sheet without an additional infusion of resources — I don't see that as a game-changer," said Jonathan Walters, a former Middle East and North Africa director at the World Bank. "It won't send a strong enough signal to staff, and more importantly it won't send a strong enough signal to developing countries."
The debate over the future of the World Bank illustrates how even governments that view climate change as an existential threat are reluctant to pay the steep price of confronting the danger. Much of the reform strategy they're proposing rests on pressing the bank — an institution with a nearly 80-year legacy and globe-spanning operations — to squeeze more capacity out of its existing resources. That's sparking fears among poor nations that the lender will have to sacrifice part of its poverty-fighting mission.
Yellen said Tuesday that "we are responsibly stretching [the bank's] balance sheet to deliver up to an additional $50 billion of lending over the next decade." She has also called for significant contributions from the private sector.
But the World Bank's development committee said that "alone will not be enough to meet the vast needs of client countries" even with greater domestic and private resources.
The committee agreed that the bank — which last fiscal year committed $115 billion of finance, mainly for development — must double down on its poverty-reduction focus while simultaneously addressing climate change by promoting renewable energy to cut planet-warming gases caused by fossil fuels.
But addressing climate needs on top of global conflicts and pandemics would require $2.4 trillion in total annual spending by all countries and institutions through 2030, the bank estimated.
"The strong signal of shareholder support associated with a capital increase could enable the Bank to go further," the committee said, adding that any new infusion of money should be accompanied by the reform efforts that the U.S. and European countries have pushed.
Those changes include adjusting the bank's equity-to-loan ratio — which would expand financing capacity — and boosting guarantees for private investors against political risk. They also want the bank to focus more on the vulnerability of populations when assessing possible projects rather than siloing World Bank clients into income categories. The bank prohibits middle-income countries — where a majority of the world's poor live — from accessing below-market-rate loans.
Yellen has implored the bank to do more with what it has, to modernize its operations and more creatively use existing models to attract private sector and philanthropic dollars. Ajay Banga, President Joe Biden's pick to run the bank, echoed that call last week.
"I'm not in this game to measure the size of the World Bank," Banga said at an event in Washington. "I'm in this game to make my grandchild's life better."
Treasury and White House officials say the bank may eventually need another inflow of capital from large member nations but that the U.S. cannot simply plow in more cash, especially given debt and deficit concerns at home.
"Magic money would be great," said a person familiar with the Biden administration's thinking who requested anonymity to speak candidly on a sensitive topic. "We don't live in a world where magic money exists. And it's not just about adding capital."
The bank also needs to "integrate the impact of climate change, taking into account weather, changing rainfall levels" and other environmental factors, the person said.
The lender has faced charges that it's too risk averse, in effect discouragingprivate sector investment.Making the institution bigger without fixing how it operates would only deepen that problem, its critics contend.
What's more, a fresh capital infusion would likely require boosting the voting shares of China, a U.S. geopolitical rival that already holds significant developing country influence and debt through other funds. Analyses have shown China's voting shares are underweighted relative to its size in the global economy, which Beijing has sought to correct in past fights over capital infusions.
"If I was a decision-maker, I would not go out and try to get more money for the World Bank right now," said Mohamed El-Erian, president of Queens' College, Cambridge and chief economic adviser at investment giant Allianz. "I would go out and prove that the bank can use its existing money much better."
Banga agreed that change is needed, saying the focus on income classifications for client countries has kept middle-income nations from accessing cheaper financing, locking them into cycles of debt that keep millions in poverty. That makes it harder for them to recover from climate change shocks, such as hurricanes and other extreme weather.
John Morton, who until late last year was Yellen's climate counselor at Treasury, said his former boss wants to hold off on discussions about big budget increases for the World Bank and instead focus on using existing tools, which he called "an important signal."
He said the changes under consideration could give more breathing room to tackle climate change, which contributes to other issues the World Bank already focuses on, such as food shortages and energy insecurity.
"We need to be able to walk and chew gum at the same time," said Morton, who is now managing director and global head of advisory at climate change investment firm Pollination Group.
European shareholders have similarly suggested no new money will be coming the bank's way.
"We have to assume that budget resources worldwide will not increase dramatically in the near future," German State Secretary in the Federal Ministry for Economic Cooperation and Development Jochen Flasbarth said in March. "We're in budget discussions here in our own country, and to be honest, those are still relatively pleasant compared to what many other donor countries are seeing on the financial side."
That the World Bank is no longer "fit for purpose" has unified its critics and champions, said Rachel Kyte, a former top official at the institution, adding that many of the changes being discussed would be transformative.
Biden administration officials say the risk-taking changesthey are looking for are modest and would not jeopardize the bank's gold-plated credit ratings. And they say the changes could be enacted quickly and not get bogged down in debate.
Yet Kyte said the bank is a historically inward-looking organization that is "resistant to change." Bringing senior management on board with a new mission will be the key challenge. Kyte said staff will likely return to old habits "as soon as there is a little bit of daylight" between stated priorities and management's direction.
"Culture kills strategy, famously," said Kyte, who is now dean of Tufts University's Fletcher School. "The heartbeat that you're responding to is inside the building. That's the jeopardy."
People close to the Biden administration say they expect Banga to push much more aggressively on a reform agenda than did the bank's outgoing president, David Malpass, a Trump White House pick who is leaving the job a year early.
But getting more from existing tools won't bring enough spare capacity, ultimately forcing staff to sacrifice on other priorities, said Vijaya Ramachandran, a former World Bank official who is now director of energy and development at the Breakthrough Institute, a think tank.
"I don't think it can squeeze an entire mitigation agenda out of its existing resources without consequences … suggesting that that is not a tradeoff is not helpful," she said.
Some developing nations, especially in Africa, are concerned that focusing on reducing planet-heating gases will steer much-needed capital to comparatively wealthier nations, said Todd Moss, a former World Bank official and deputy assistant secretary of State for African affairs in the George W. Bush administration.
The World Bank's clients are mostly responding to the effects of climate change and have done little to cause it, while rich countries have done a miserable job financing the type of adaptation projects such nations covet, Moss said.
The goal for World Bank reformers is to make the "cake" bigger by driving more finance overall, said Dan Jorgensen, Denmark's climate policy minister. Yet he is aware that expanding the bank's priorities has alarmed some developing countries.
"They fear that the greening of the bank can have negative effects on poverty reduction," Jorgensen said. "These voices should be taken seriously. And we should make sure that that is not actually the case."
Malpass told POLITICO that "there's a good discussion that's going on in our board of trying to balance needs on both development and climate."
Still, he said at an event in Washington that even as crises like the pandemic, climate change and energy and food insecurity have mounted, contributions from bank shareholders — with the U.S. being the largest — have been flat for 30 years.
"There hasn't been much increase in overseas development assistance," Malpass said. "Many of [the advanced economies] have reduced it. But this is a challenge for the world when their countries are facing more costs than before."
Zia Weise and Karl Mathiesen contributed to this report.