Dear Frances' New Collection Has The Shoes That Just Might Be Your Forever Staples
If Cinderella found her glass shoe on the palace steps, I found mine within Dear Frances' Pre-Spring Summer 2023 Collection. I first discovered the brand in 2017 when celebrities were first spotted in its colorful mules and pearl-embellished slides. Since then, I've consistently been in awe of the classic yet modern designs, and it's safe to say I'm not alone. The luxury footwear brand has grown a long list of celeb followers — from stars like Emily Ratajkowski, Selena Gomez, and the Hadid sisters to influencers like Elsa Hosk and Chiara Ferragni — and it's no wonder. Dear Frances is prized for its timeless styles and high-quality craftsmanship (each piece is handmade in Italy). The brand works hand-in-hand with its team of artisan shoemakers utilizing sustainable materials like apple leather and eco-vegan processes, which makes the investment in the shoes even more worth it. Instead of trendy fast-fashion buys, Dear Frances goes for luxury pieces that'll become a forever staple in your wardrobe.  Following up its winter boots collection, the brand's latest creation is a new line of warm-weather shoes for fashionistas who are prepping for the upcoming seasons. The collection has everything from breathable mesh ballerina flats to suede slides to two different kinds of loafers — each available in a variety of shades. Mind you, the shoes don't come cheap — the most affordable pair is $380 — but are worth every dollar. On the site, Dear Frances' founder Jane Frances says, "I look to develop investment styles with a quiet aesthetic; pieces that can be worn and cherished is the heart of our slow fashion ethos." I personally couldn't agree more with the mission behind the brand after trying my first pair of Dear Frances shoes. I was gifted the Joss Nubuck Loafer in tan and the Harlow Patent Pump in blush pink, and the two styles are easily my favorite from the collection. Curious to see how I styled them? Scroll ahead for the first outfits I've created with footwear from Dear Frances Pre-Spring Summer 2023 Collection. DashDividers_1_500x100 Dear Frances Joss Nubuck Loafers in Tan, $520 If there's anything that you need to invest in or choose from the new line, it's these loafers. After another pair of loafers tore up my feet to the point that I was limping for days, I was scarred. However, I found myself effortlessly slipping into these soft shoes — no uncomfortable rubbing or tightness like my prior pair. I wore them straight out of the box without breaking them in and without ANY Band-Aids and came home fine. These classy loafers could be styled in multiple ways, casually with an oversized sweater, quilted vest, and jeans or a comfy long-sleeve midi dress. I went my usual preppy route with a plaid blazer, white fisherman's sweater, and my go-to green corduroy Ralph Lauren cap. Another academic look — with a slight twist — you could try is a cardigan sweater and a cargo skirt. All in all, I've declared these elevated loafers my new baby, and I know I'll wear them years from now. As I've previously mentioned, there are two loafers in this new collection. The Driver Loafer and the Joss Nubuck Loafer. The Driver Loafer, with its smooth exterior lined by a whip-stitch edge and a contrasting sole, resembles an easy slip-on you lounge around in. Meanwhile, the Joss Nubuck Loafer has a vintage feel with the nubuck and strap detail. (If you didn't know, nubuck is made from high-quality leather that gives off a similar appearance to suede but is more durable and naturally water-resistant.) The loafers also have a slight height, with a 1 cm heel making them comfortable to wear all day long. I appreciated how it wasn't too flat or too chunky and had that "just right" balance. Dear Frances Harlow Patent Pump in Blush Pink, $480 Meanwhile, the Harlow Pump is a versatile block-heel shoe fit for the office, weekend brunches, and elevated events. I paired mine with a soft knit collared sweater, black flare dress pants, and my ivory JW Pei Gabbi bag for a brand event. The 3-inch heel is comfortable to walk in, whether moving around the office, en route to events, or shopping in the city. I also adored how the rounded toe looked rather than the typical pointed ones. It was softer in appearance, making it more relaxed, with the patent leather bringing a luxe touch. I'll be going to Europe this summer for my honeymoon, and the Harlow is coming with me. The pump is the best-selling piece from the new collection, as most of the shoes — the black patent leather and pink — are sold out. Unfortunately, they were out of my size (6.5), so I opted for a size 7 and didn't mind because of the adjustable strap. Also, if you fell in love with the vintage flair of the Joss Loafers, you'll admire the suede pump version that comes in tan. At Refinery29, we're here to help you navigate this overwhelming world of stuff. All of our market picks are independently selected and cur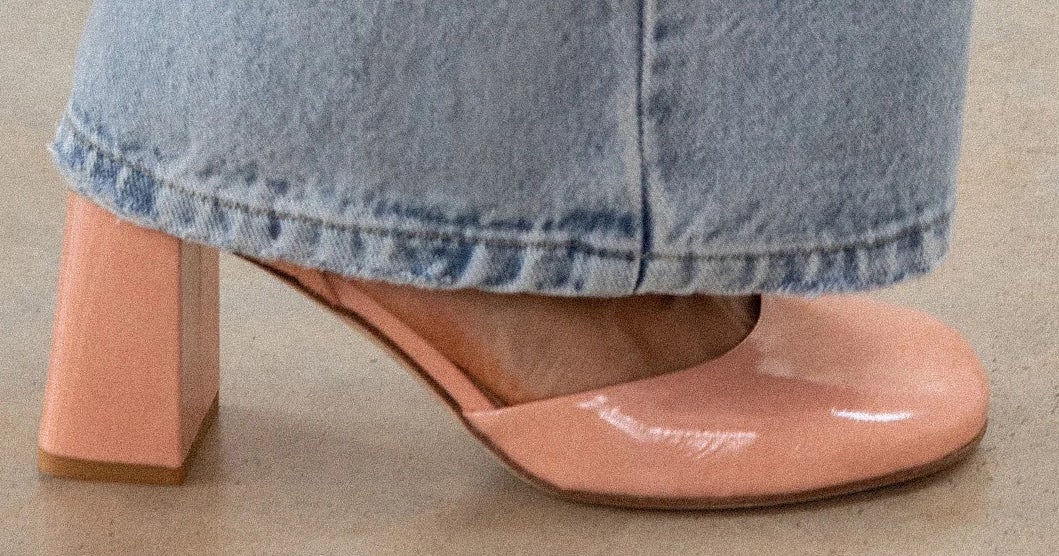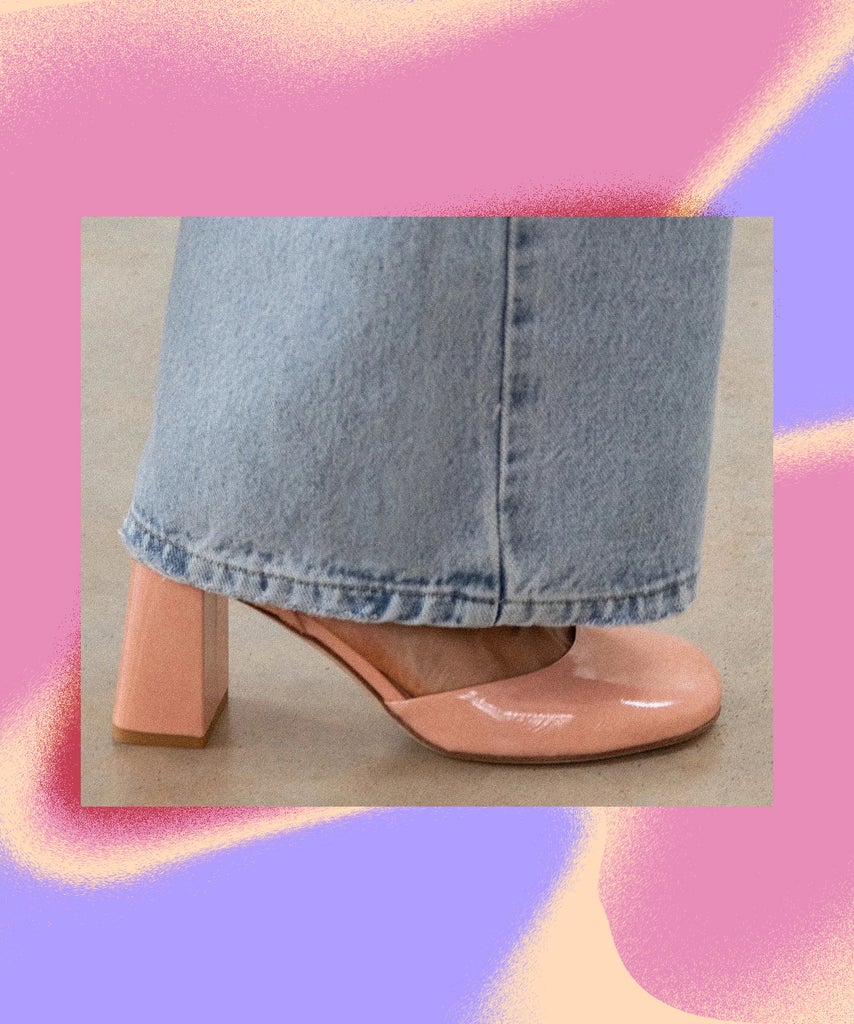 If Cinderella found her glass shoe on the palace steps, I found mine within Dear Frances' Pre-Spring Summer 2023 Collection. I first discovered the brand in 2017 when celebrities were first spotted in its colorful mules and pearl-embellished slides. Since then, I've consistently been in awe of the classic yet modern designs, and it's safe to say I'm not alone. The luxury footwear brand has grown a long list of celeb followers — from stars like Emily Ratajkowski, Selena Gomez, and the Hadid sisters to influencers like Elsa Hosk and Chiara Ferragni — and it's no wonder. Dear Frances is prized for its timeless styles and high-quality craftsmanship (each piece is handmade in Italy). The brand works hand-in-hand with its team of artisan shoemakers utilizing sustainable materials like apple leather and eco-vegan processes, which makes the investment in the shoes even more worth it. Instead of trendy fast-fashion buys, Dear Frances goes for luxury pieces that'll become a forever staple in your wardrobe. 
Following up its winter boots collection, the brand's latest creation is a new line of warm-weather shoes for fashionistas who are prepping for the upcoming seasons. The collection has everything from breathable mesh ballerina flats to suede slides to two different kinds of loafers — each available in a variety of shades.
Mind you, the shoes don't come cheap — the most affordable pair is $380 — but are worth every dollar. On the site, Dear Frances' founder Jane Frances says, "I look to develop investment styles with a quiet aesthetic; pieces that can be worn and cherished is the heart of our slow fashion ethos."
I personally couldn't agree more with the mission behind the brand after trying my first pair of Dear Frances shoes. I was gifted the Joss Nubuck Loafer in tan and the Harlow Patent Pump in blush pink, and the two styles are easily my favorite from the collection. Curious to see how I styled them? Scroll ahead for the first outfits I've created with footwear from Dear Frances Pre-Spring Summer 2023 Collection.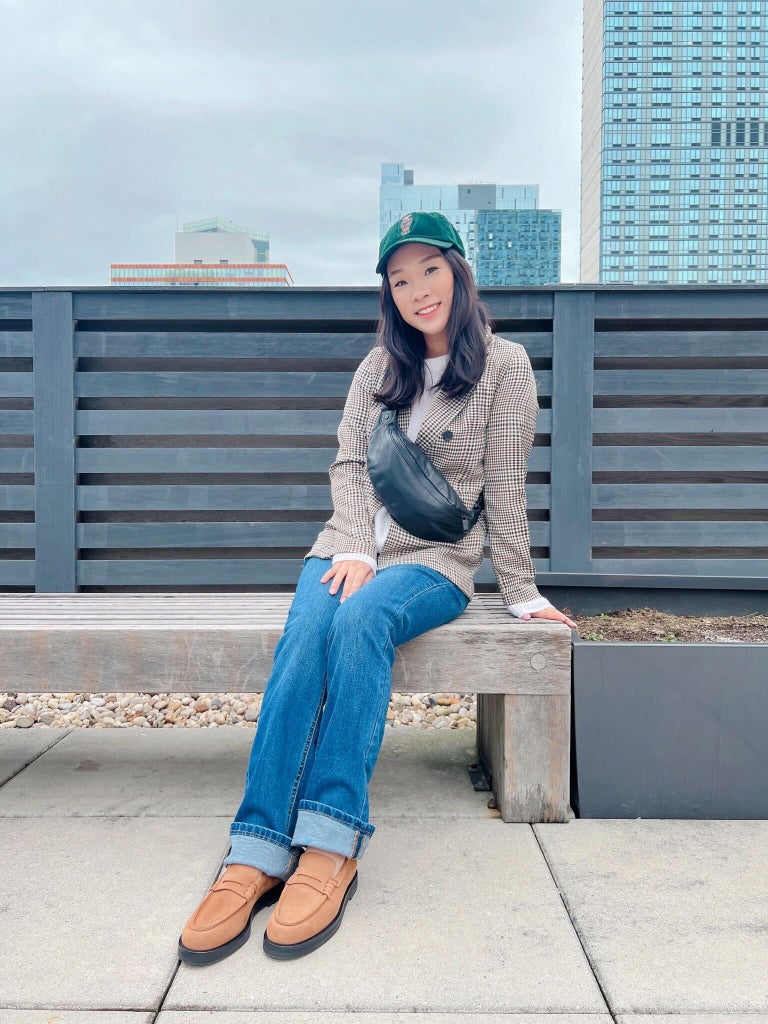 If there's anything that you need to invest in or choose from the new line, it's these loafers. After another pair of loafers tore up my feet to the point that I was limping for days, I was scarred. However, I found myself effortlessly slipping into these soft shoes — no uncomfortable rubbing or tightness like my prior pair. I wore them straight out of the box without breaking them in and without ANY Band-Aids and came home fine.
These classy loafers could be styled in multiple ways, casually with an oversized sweater, quilted vest, and jeans or a comfy long-sleeve midi dress. I went my usual preppy route with a plaid blazer, white fisherman's sweater, and my go-to green corduroy Ralph Lauren cap. Another academic look — with a slight twist — you could try is a cardigan sweater and a cargo skirt. All in all, I've declared these elevated loafers my new baby, and I know I'll wear them years from now.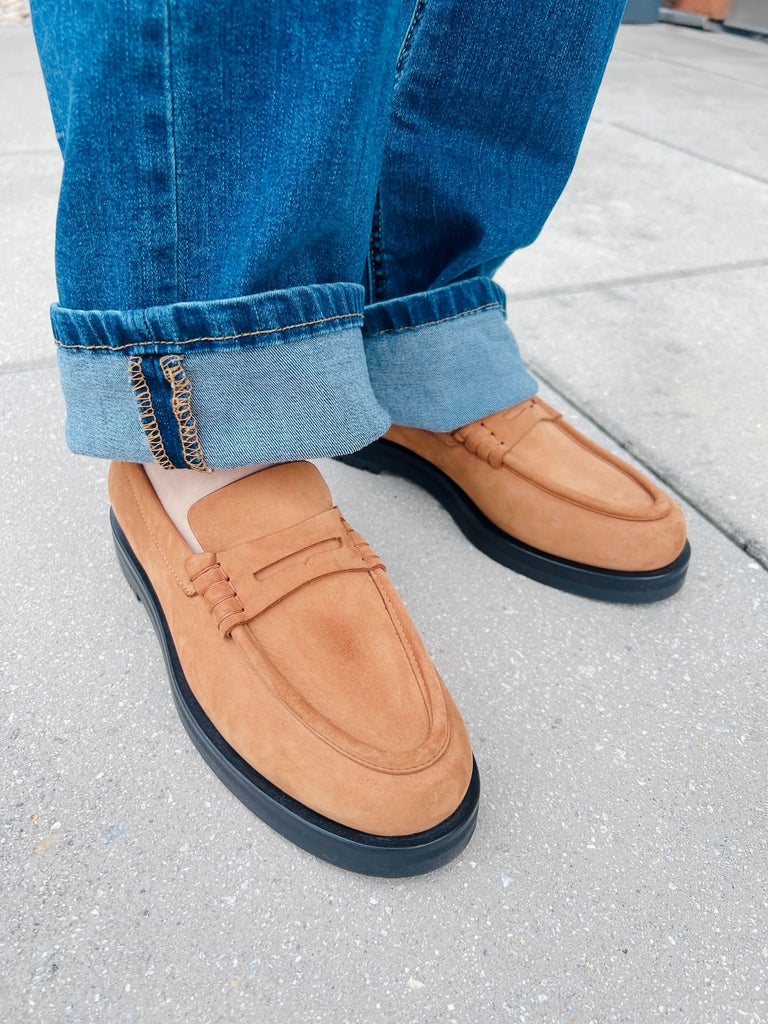 As I've previously mentioned, there are two loafers in this new collection. The Driver Loafer and the Joss Nubuck Loafer. The Driver Loafer, with its smooth exterior lined by a whip-stitch edge and a contrasting sole, resembles an easy slip-on you lounge around in. Meanwhile, the Joss Nubuck Loafer has a vintage feel with the nubuck and strap detail. (If you didn't know, nubuck is made from high-quality leather that gives off a similar appearance to suede but is more durable and naturally water-resistant.)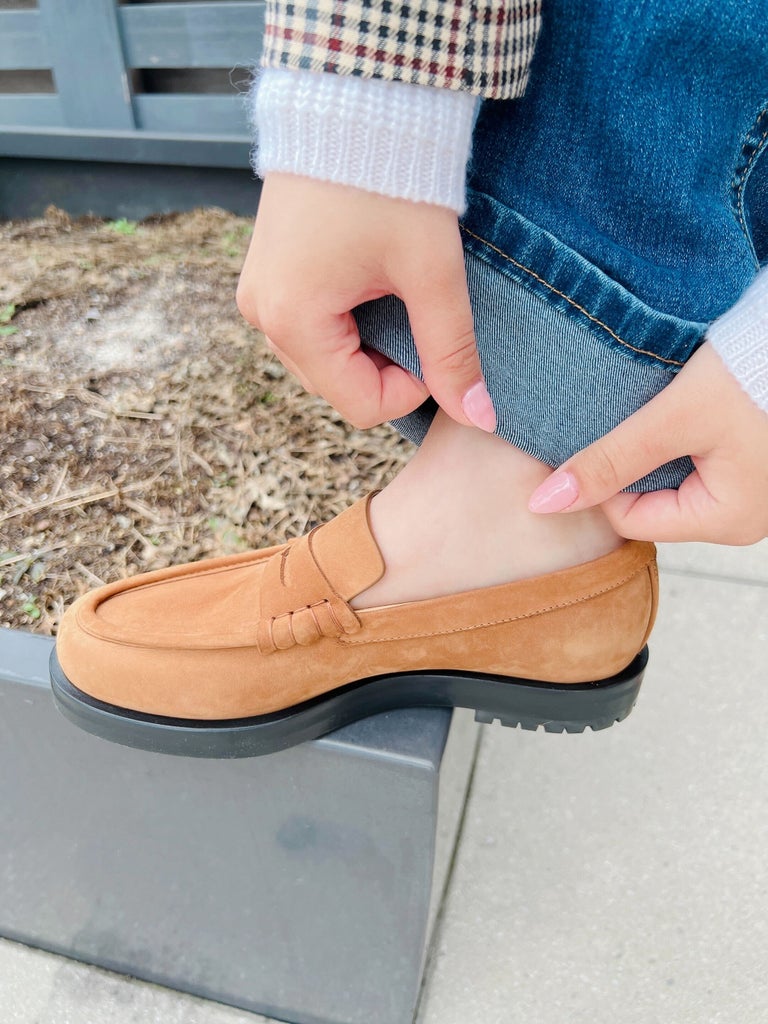 The loafers also have a slight height, with a 1 cm heel making them comfortable to wear all day long. I appreciated how it wasn't too flat or too chunky and had that "just right" balance.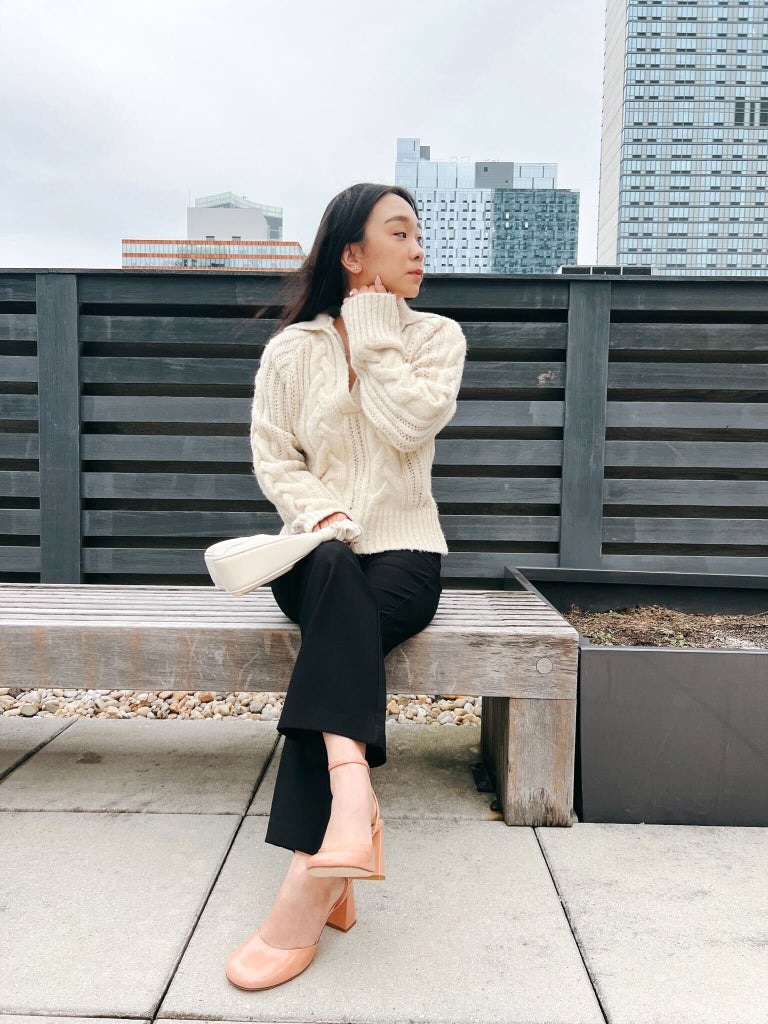 Meanwhile, the Harlow Pump is a versatile block-heel shoe fit for the office, weekend brunches, and elevated events. I paired mine with a soft knit collared sweater, black flare dress pants, and my ivory JW Pei Gabbi bag for a brand event. The 3-inch heel is comfortable to walk in, whether moving around the office, en route to events, or shopping in the city. I also adored how the rounded toe looked rather than the typical pointed ones. It was softer in appearance, making it more relaxed, with the patent leather bringing a luxe touch. I'll be going to Europe this summer for my honeymoon, and the Harlow is coming with me.
The pump is the best-selling piece from the new collection, as most of the shoes — the black patent leather and pink — are sold out. Unfortunately, they were out of my size (6.5), so I opted for a size 7 and didn't mind because of the adjustable strap. Also, if you fell in love with the vintage flair of the Joss Loafers, you'll admire the suede pump version that comes in tan.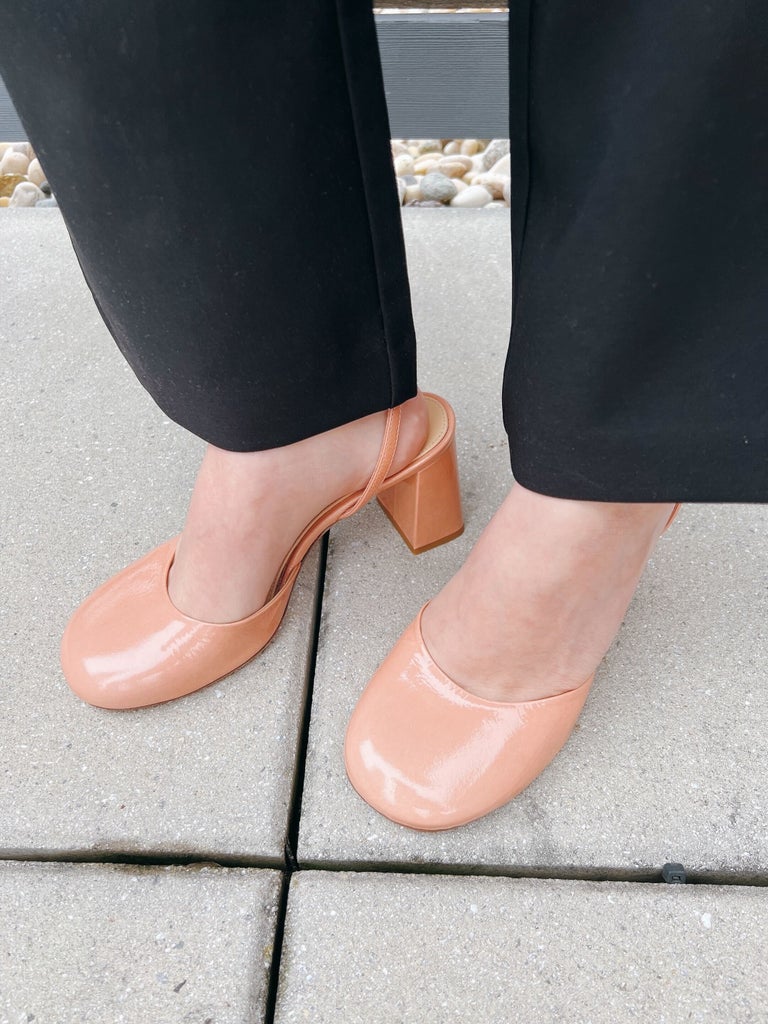 At Refinery29, we're here to help you navigate this overwhelming world of stuff. All of our market picks are independently selected and curated by the editorial team. All product details reflect the price and availability at the time of publication. If you buy or click on something we link to on our site, Refinery29 may earn commission.
Like what you see? How about some more R29 goodness, right here?
Get To Know The Shoe Brand Beloved By Style Stars
10 Paris Fashion Week Trends To Shop Now