Brandon Maxwell Brings High Fashion To Walmart With Two New Collections
Last spring, it was announced that Brandon Maxwell — designer of glamorous-edgy womenswear saturated in rich gem tones and emblazoned with statement prints — stepped in as creative director of Scoop and Free Assembly, the two in-house fashion lines at Walmart. Nearly a year later, the conglomerate has unveiled the first official drops under Maxwell's discerning eye — and the styles that have rolled out are unsurprisingly super playful, super colorful, and super affordable. "Working with Walmart has long been a dream of mine," Maxwell told Denise Incandela, EVP of Apparel and Private Brands, Walmart U.S. in a press release. "As a kid, growing up in a small town in Texas, Walmart was the destination for everything, including clothing. And, as you know, Denise, we have a shared vision to make beautiful clothing accessible to all," he said of his passionate dedication. To that end, both the Free Assembly, a large fashion category that includes 500+ styles for the whole family, and the Scoop collections, a smaller edit of trendier pieces for fashion-minded women, offer apparel in sizes XS to 3XL ranging from $8 to $75. If you're unsure about which collection is more your vibe, Maxwell advises that "Scoop is more about bold, vibrant colors and high-energy prints. […] When I think about Scoop, I think about play and an easy lightness to the clothes. They are more trend-driven than Free Assembly but still timeless." While there's much to sort through from the two vast collections, we've highlighted a few of our top picks below. You'll find plenty of office-friendly pieces like an oversized blazer in springtime gingham, a mixed-material knitted shirt dress, and a plissé midi dress with a sweet tie-front detail. When it comes to nighttime or weekend wear, you have options like a classic moto jacket, vintage-inspired jeans with an allover floral motif, and stretchy leggings with pintuck detailing and side ankle zips. "I've so enjoyed working closely with Walmart's design team and partners over the past year to bring this vision to life," said Maxwell, in the press announcement. "There's nothing more rewarding than clothing that helps people look and feel their best no matter where they come from, who they are or what their budget may be." Shop our fave pieces below, or peruse the entire Free Assembly and Scoop collections now. Free Assembly Slim Double-Breasted Blazer, $45 Here's a double-breasted blazer that'll take you from your presentation to a pizza dinner. Just imagine this over a tank and cut-off denim shorts in the summertime. Until then, you can also wear this with work trousers or jeans. Free Assembly Sleeveless Midi Sweater Dress, $28 The best part about copping a sleeveless sweater dress is the platter of styling options that come with it. Wear it under a cardigan for a cozy look, or size up the dress so you have room to layer a long-sleeve underneath. Free Assembly Terry Mixed Blouson Dress, $28 This poplin-sweatshirt hybrid is a particular highlight for us — we can picture this casual shift dress styled with simple white kicks or with black Chelsea boots for an effortless dress-up moment. Free Assembly Sleeveless Fit and Flare Dress, $32 Made from 100% organic cotton, this breezily flared gingham dress seems to be the ideal outfit for a springtime picnic or backyard BBQ. Free Assembly Original 90's Straight Leg Jeans, $27 Available in sizes 0 to 14, these vintage-inspired jeans — which are confetti-speckled with a dainty floral motif — are meant to remind you of the stuff you used to wear (but grown-up, of course). Free Assembly Femme Utility Jumpsuit, $36 This 100% organic cotton denim coverall is exactly what we want to wear whenever we're having one of those one-and-done days (which is every day, tbh). Scoop Puff Sleeve Sweater, $26 Why would you ever settle for a regular sweater when this puff-sleeve is here to balloon your arms? Scoop Faux Leather Moto Jacket, $40 As classic as they come! This moto jacket is one you'll keep reaching for season after season. Scoop Smocked Crop Top, $22 The lettuce leaf hems, the elastic waist, the crinkled texture — it's a tank that will do the most in any outfit situation. Scoop Asymmetrical Midi Skirt, $26 Don't be filled by the asymmetric hemline or the fire-engine red of this midi skirt — the soft knit material makes this one of the easiest, comfiest skirts you'll wear. Scoop Hidden Zip Leggings, $26 There's no denying that we're living in a leggings nation — and this unexpected style with ankle zips and piping down the front is a refreshing take on the stretchy pant. Scoop Long Sleeve Split Neck Pleated Midi Dress, $38 One of the more luxe styles would have to be this billowy dress with a pleated skirt, relaxed sleeves, and a tie waist. It's what we call a true day-to-night look. DashDividers_1_500x100 At Refinery29, we'r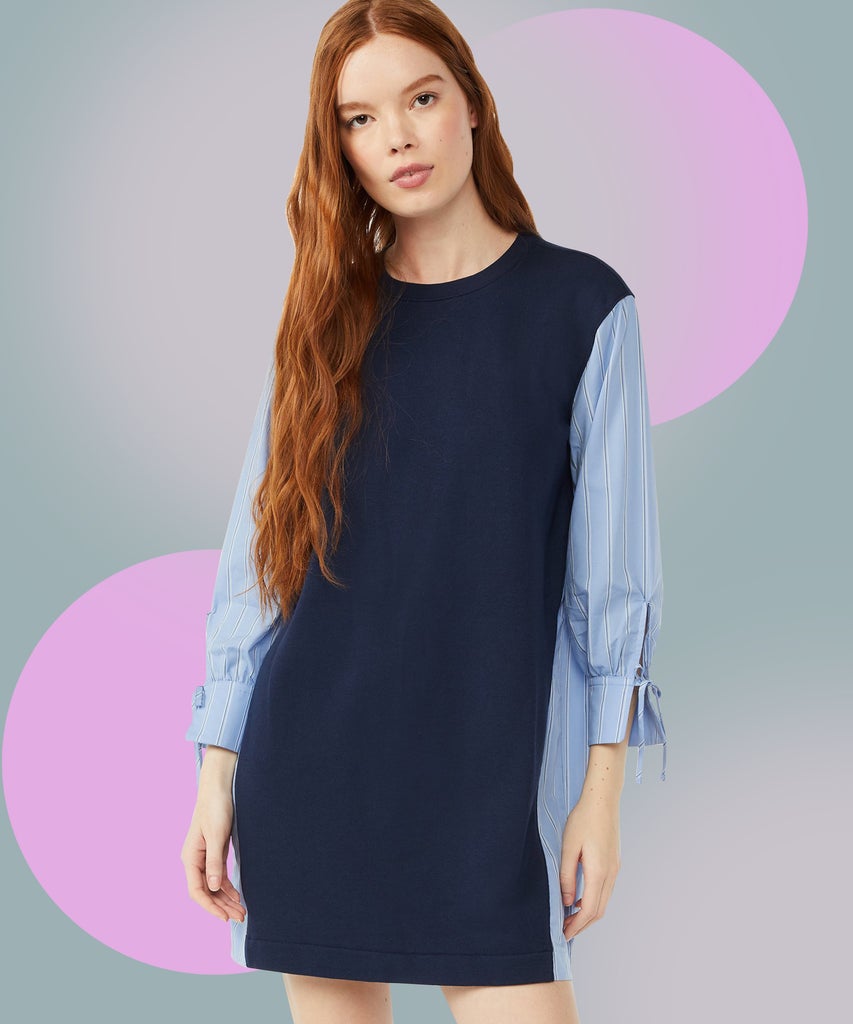 Last spring, it was announced that Brandon Maxwell — designer of glamorous-edgy womenswear saturated in rich gem tones and emblazoned with statement prints — stepped in as creative director of Scoop and Free Assembly, the two in-house fashion lines at Walmart. Nearly a year later, the conglomerate has unveiled the first official drops under Maxwell's discerning eye — and the styles that have rolled out are unsurprisingly super playful, super colorful, and super affordable.
"Working with Walmart has long been a dream of mine," Maxwell told Denise Incandela, EVP of Apparel and Private Brands, Walmart U.S. in a press release. "As a kid, growing up in a small town in Texas, Walmart was the destination for everything, including clothing. And, as you know, Denise, we have a shared vision to make beautiful clothing accessible to all," he said of his passionate dedication. To that end, both the Free Assembly, a large fashion category that includes 500+ styles for the whole family, and the Scoop collections, a smaller edit of trendier pieces for fashion-minded women, offer apparel in sizes XS to 3XL ranging from $8 to $75.
If you're unsure about which collection is more your vibe, Maxwell advises that "Scoop is more about bold, vibrant colors and high-energy prints. […] When I think about Scoop, I think about play and an easy lightness to the clothes. They are more trend-driven than Free Assembly but still timeless."
While there's much to sort through from the two vast collections, we've highlighted a few of our top picks below. You'll find plenty of office-friendly pieces like an oversized blazer in springtime gingham, a mixed-material knitted shirt dress, and a plissé midi dress with a sweet tie-front detail. When it comes to nighttime or weekend wear, you have options like a classic moto jacket, vintage-inspired jeans with an allover floral motif, and stretchy leggings with pintuck detailing and side ankle zips.
"I've so enjoyed working closely with Walmart's design team and partners over the past year to bring this vision to life," said Maxwell, in the press announcement. "There's nothing more rewarding than clothing that helps people look and feel their best no matter where they come from, who they are or what their budget may be." Shop our fave pieces below, or peruse the entire Free Assembly and Scoop collections now.
Here's a double-breasted blazer that'll take you from your presentation to a pizza dinner. Just imagine this over a tank and cut-off denim shorts in the summertime. Until then, you can also wear this with work trousers or jeans.
The best part about copping a sleeveless sweater dress is the platter of styling options that come with it. Wear it under a cardigan for a cozy look, or size up the dress so you have room to layer a long-sleeve underneath.
This poplin-sweatshirt hybrid is a particular highlight for us — we can picture this casual shift dress styled with simple white kicks or with black Chelsea boots for an effortless dress-up moment.
Made from 100% organic cotton, this breezily flared gingham dress seems to be the ideal outfit for a springtime picnic or backyard BBQ.
Available in sizes 0 to 14, these vintage-inspired jeans — which are confetti-speckled with a dainty floral motif — are meant to remind you of the stuff you used to wear (but grown-up, of course).
This 100% organic cotton denim coverall is exactly what we want to wear whenever we're having one of those one-and-done days (which is every day, tbh).
Why would you ever settle for a regular sweater when this puff-sleeve is here to balloon your arms?
As classic as they come! This moto jacket is one you'll keep reaching for season after season.
The lettuce leaf hems, the elastic waist, the crinkled texture — it's a tank that will do the most in any outfit situation.
Don't be filled by the asymmetric hemline or the fire-engine red of this midi skirt — the soft knit material makes this one of the easiest, comfiest skirts you'll wear.
There's no denying that we're living in a leggings nation — and this unexpected style with ankle zips and piping down the front is a refreshing take on the stretchy pant.
One of the more luxe styles would have to be this billowy dress with a pleated skirt, relaxed sleeves, and a tie waist. It's what we call a true day-to-night look.
At Refinery29, we're here to help you navigate this overwhelming world of stuff. All of our market picks are independently selected and curated by the editorial team. All product details reflect the price and availability at the time of publication. If you buy or click on something we link to on our site, Refinery29 may earn commission.
Like what you see? How about some more R29 goodness, right here?