7 Copenhagen Fashion Week Fall 2023 Trends To Try Now
James Cochrane Perhaps no other city is simultaneously as inspirational as it's pragmatic when it comes to fashion trends as Denmark's capital. Sure, New York, London, Milan, and Paris have a lot to say with their big designer names, but you can always count on Copenhagen Fashion Week to serve as a refresher course on everyday dressing; the runways take mixing and matching colors, prints, and wardrobe essentials to an entirely new level of quirkiness that somehow still feels wearable. Taking place before the Big Four, it also serves as the first taste of fall 2023 trends and collections to come.  Luckily, this season, there were plenty of inspirational things to pick up on, whether it was a singular color, a new print, or even an interesting way of styling a staple. From high-on-shine denim at Ganni to statement outerwear at Saks Potts, Copenhagen labels continue to define their own signatures that punctuate contemporary fashion. Read on for our favorite trends from the Copenhagen Fashion Week fall 2023 season. Copenhagen Fashion Week Trend Fall 2023: Space-Inspired James Cochrane Fashion has been referencing retro-futurism for more than a few seasons now, but the Copenhagen brands are taking the concept in a new direction with prints that serve as odes to all things space. See: the intergalactic-like patterns at Ganni and planetary prints from Helmstedt. The latter took things one step further with a knit set covered in aliens. Elsewhere, Henrik Vibskov's hoods, sunglasses, and textured full-length bodysuits felt like something from another world.  Copenhagen Fashion Week Trend Fall 2023: Inflated Fashion James Cochrane Consider it a collective desire for comfort as we face an impending recession and post-pandemic life, but the designers at Copenhagen Fashion Week made a case for inventive shapes that looked inflated. Take, for instance, Baum und Pferdgarten's extra-padded puffers and matching quilted skirts. Or: Stine Goya who presented bubble wrap-like puffer hoods, puffy coats, and pillow-like bags in spades. Meanwhile, Helmstedt's signature quilted coats were done up in a rainbow of colors, with a finale dress that included a train made of puffy tails. Copenhagen Fashion Week Trend Fall 2023: The Color Red James Cochrane Copenhagen is the city of color; you'd be hard-pressed to look through street style photos and not see an explosion of pastels, candy-colored brights, vivid neons, and primary hues all mixed together with reckless abandon. But this season, one stood out: red. Saks Potts showed several red-to-toe looks with suede coats, maxi skirts, strapless dresses, and matching sets. For its part, Baum und Pferdgarten showed the brand's version of a red tracksuit. Copenhagen Fashion Week Trend Fall 2023: All-Black James Cochrane At the opposite end of the spectrum, there was an echoing force of all-black, perhaps cementing a new era of quiet, edgy minimalism in Copenhagen. Ganni, known for its prints and use of leopard print as a neutral, opened its show with four all-black looks, a stark turn of direction for the brand, including a slouchy blazer, cargo pants, fringe sweater dress, and sequin maxi dress. Knitwear brand Skall Studio, typically known for its softer, ivory-hued palette, also embraced the dark side with oversized, all-black outerwear and sweater combinations.  Copenhagen Fashion Week Trend Fall 2023: Oversized Silhouettes James Cochrane The shape of things to come is looking larger-than-life, courtesy of designers such as Selam Fessahaye, who specializes in boxy silhouettes that convey a sense of power and take up more space and deconstructed details like exaggerated shoulders. Holzweiler also took big, cozy outerwear to the extreme, with giant silhouettes. Copenhagen Fashion Week Trend Fall 2023: Camo Print James Cochrane The influence of Y2K still lives on as camouflage print seems to be making a comeback. For proof, take note of (Di)vision's camo print long shorts, Selam Fessahaye's cocoon-like coat dress, and Helmstedt's abstract rainbow print. Camo has long been a Scandi favorite but, this season, Copenhagen's designers showed it in wider, more maximalist varieties. Being subtle is not in fashion. Copenhagen Fashion Week Trend Fall 2023: Dresses Over Pants James Cochrane At Ganni, sequin slip dresses were thrown over slouchy pants and paired with cowboy boots, and strapless snakeskin mini frocks were styled with gold pants. The Garment presented a more minimal, uniform-inspired take on skirts over pants with office-like pants and a wool skirt. The '00s-inspired trend already started making a comeback last year, but we'll likely be seeing a lot more of the look that feels equal parts fun and practical. At Refinery29, we're here to help you navigate this overwhelming world of stuff. All of our market picks are independently selected and curated by the editorial team. If you buy something we link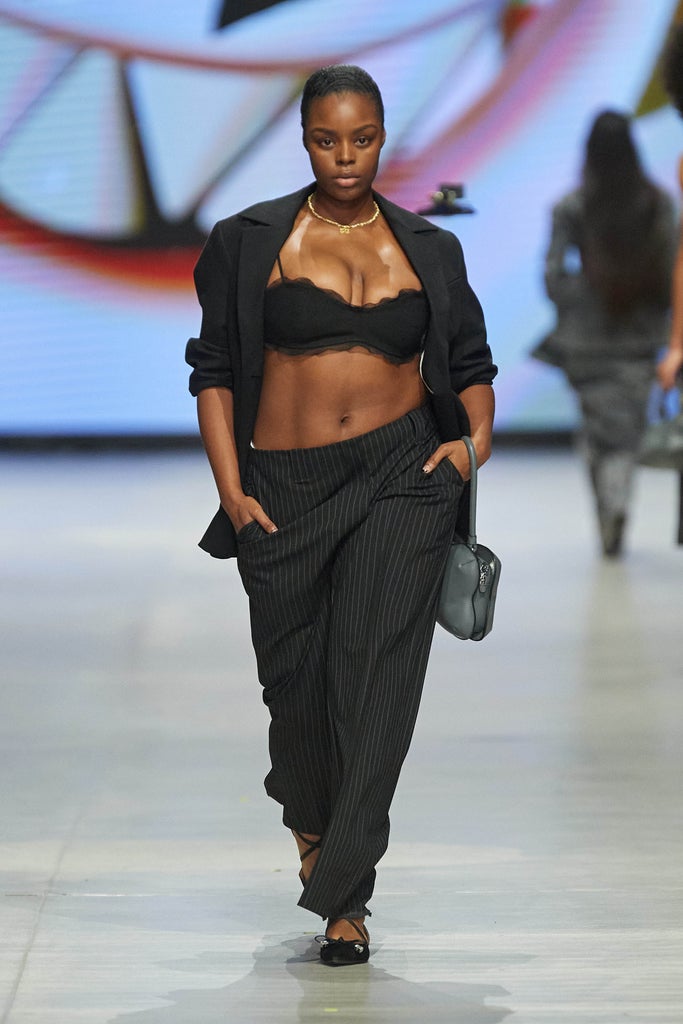 Perhaps no other city is simultaneously as inspirational as it's pragmatic when it comes to fashion trends as Denmark's capital. Sure, New York, London, Milan, and Paris have a lot to say with their big designer names, but you can always count on Copenhagen Fashion Week to serve as a refresher course on everyday dressing; the runways take mixing and matching colors, prints, and wardrobe essentials to an entirely new level of quirkiness that somehow still feels wearable. Taking place before the Big Four, it also serves as the first taste of fall 2023 trends and collections to come. 
Luckily, this season, there were plenty of inspirational things to pick up on, whether it was a singular color, a new print, or even an interesting way of styling a staple. From high-on-shine denim at Ganni to statement outerwear at Saks Potts, Copenhagen labels continue to define their own signatures that punctuate contemporary fashion.
Read on for our favorite trends from the Copenhagen Fashion Week fall 2023 season.
Copenhagen Fashion Week Trend Fall 2023: Space-Inspired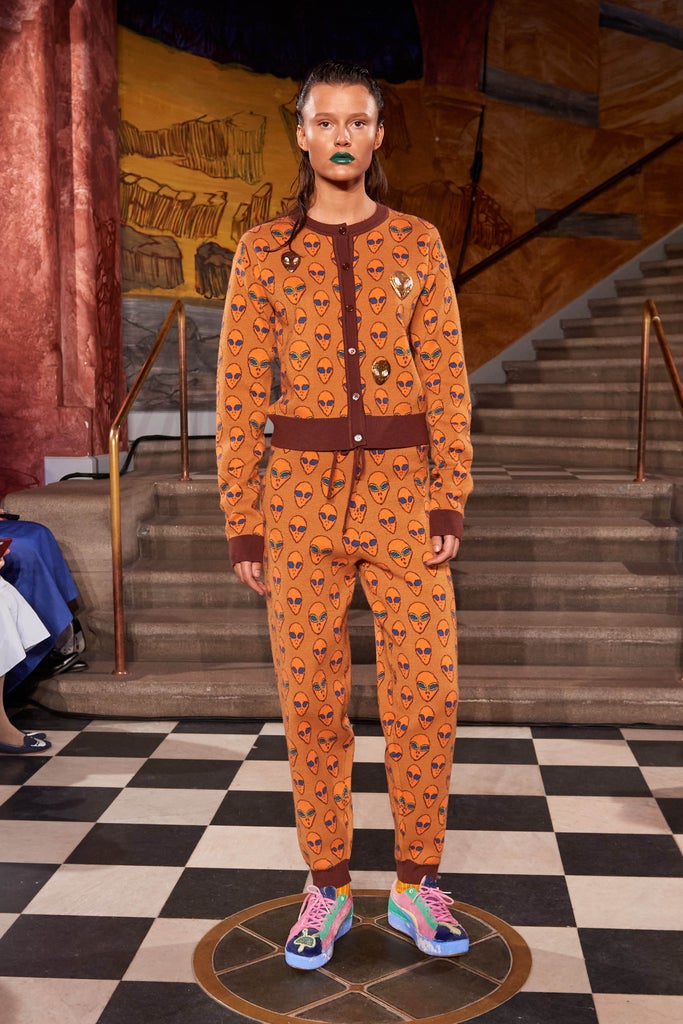 Fashion has been referencing retro-futurism for more than a few seasons now, but the Copenhagen brands are taking the concept in a new direction with prints that serve as odes to all things space. See: the intergalactic-like patterns at Ganni and planetary prints from Helmstedt. The latter took things one step further with a knit set covered in aliens. Elsewhere, Henrik Vibskov's hoods, sunglasses, and textured full-length bodysuits felt like something from another world. 
Copenhagen Fashion Week Trend Fall 2023: Inflated Fashion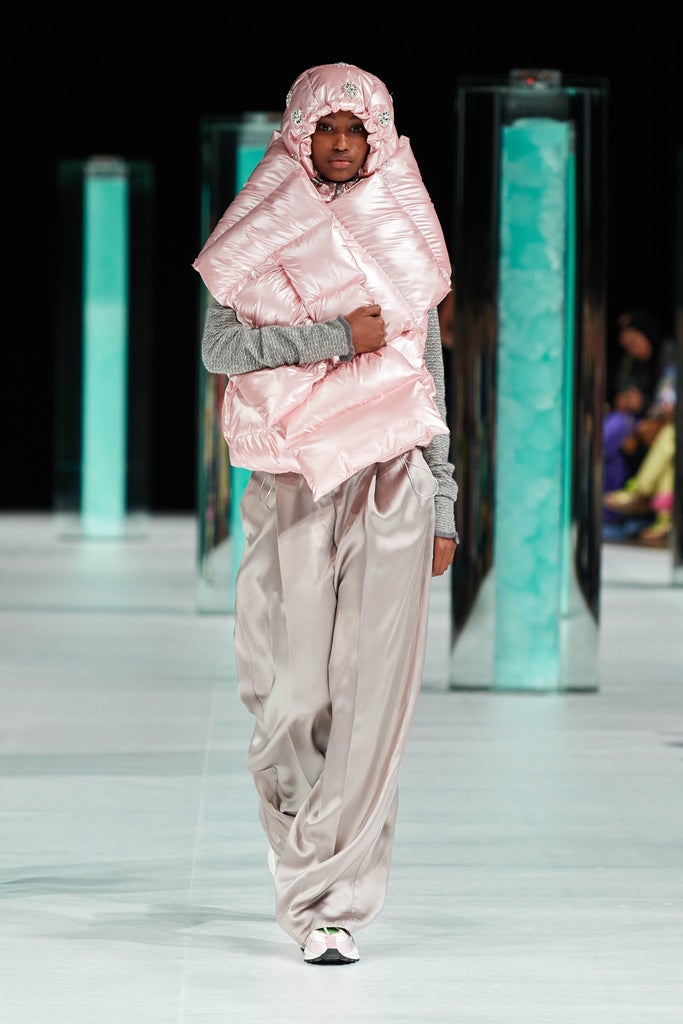 Consider it a collective desire for comfort as we face an impending recession and post-pandemic life, but the designers at Copenhagen Fashion Week made a case for inventive shapes that looked inflated. Take, for instance, Baum und Pferdgarten's extra-padded puffers and matching quilted skirts. Or: Stine Goya who presented bubble wrap-like puffer hoods, puffy coats, and pillow-like bags in spades. Meanwhile, Helmstedt's signature quilted coats were done up in a rainbow of colors, with a finale dress that included a train made of puffy tails.
Copenhagen Fashion Week Trend Fall 2023: The Color Red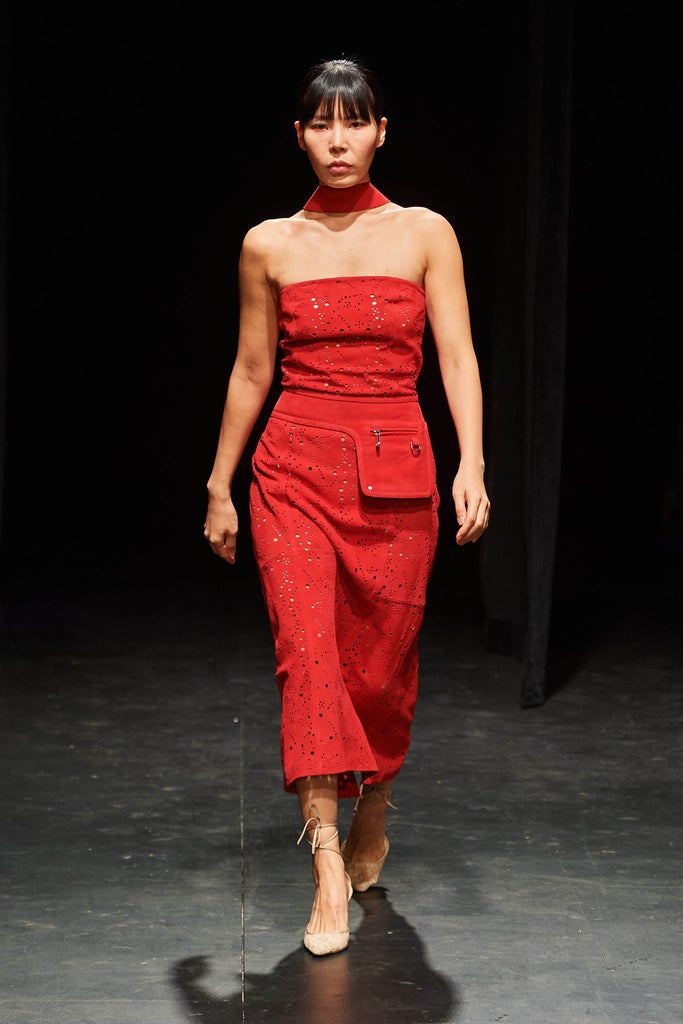 Copenhagen is the city of color; you'd be hard-pressed to look through street style photos and not see an explosion of pastels, candy-colored brights, vivid neons, and primary hues all mixed together with reckless abandon. But this season, one stood out: red. Saks Potts showed several red-to-toe looks with suede coats, maxi skirts, strapless dresses, and matching sets. For its part, Baum und Pferdgarten showed the brand's version of a red tracksuit.
Copenhagen Fashion Week Trend Fall 2023: All-Black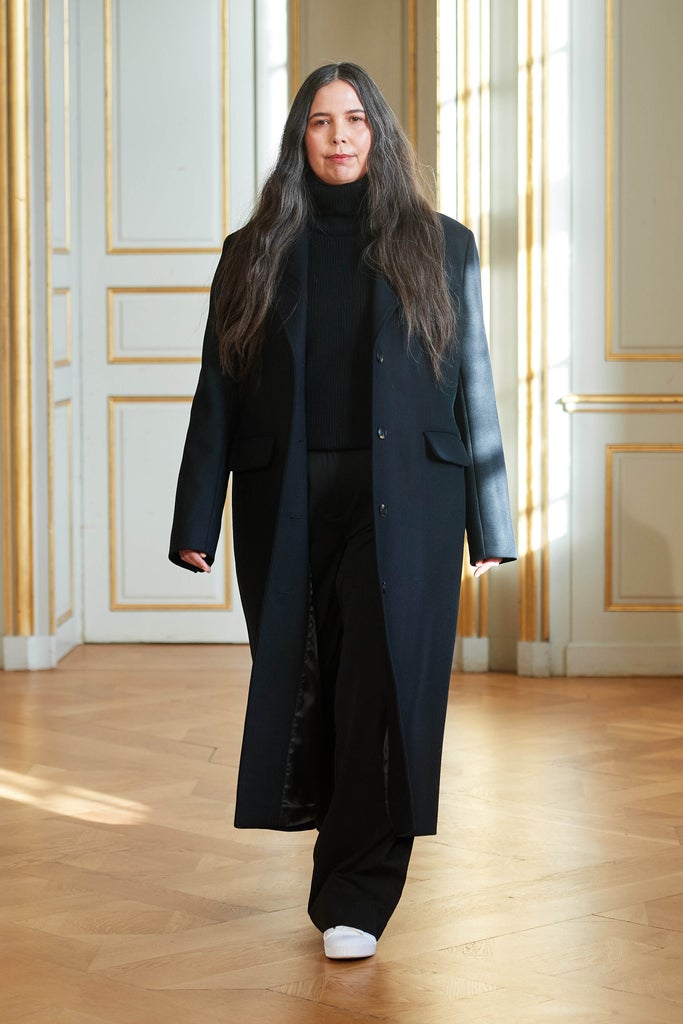 At the opposite end of the spectrum, there was an echoing force of all-black, perhaps cementing a new era of quiet, edgy minimalism in Copenhagen. Ganni, known for its prints and use of leopard print as a neutral, opened its show with four all-black looks, a stark turn of direction for the brand, including a slouchy blazer, cargo pants, fringe sweater dress, and sequin maxi dress. Knitwear brand Skall Studio, typically known for its softer, ivory-hued palette, also embraced the dark side with oversized, all-black outerwear and sweater combinations. 
Copenhagen Fashion Week Trend Fall 2023: Oversized Silhouettes
The shape of things to come is looking larger-than-life, courtesy of designers such as Selam Fessahaye, who specializes in boxy silhouettes that convey a sense of power and take up more space and deconstructed details like exaggerated shoulders. Holzweiler also took big, cozy outerwear to the extreme, with giant silhouettes.
Copenhagen Fashion Week Trend Fall 2023: Camo Print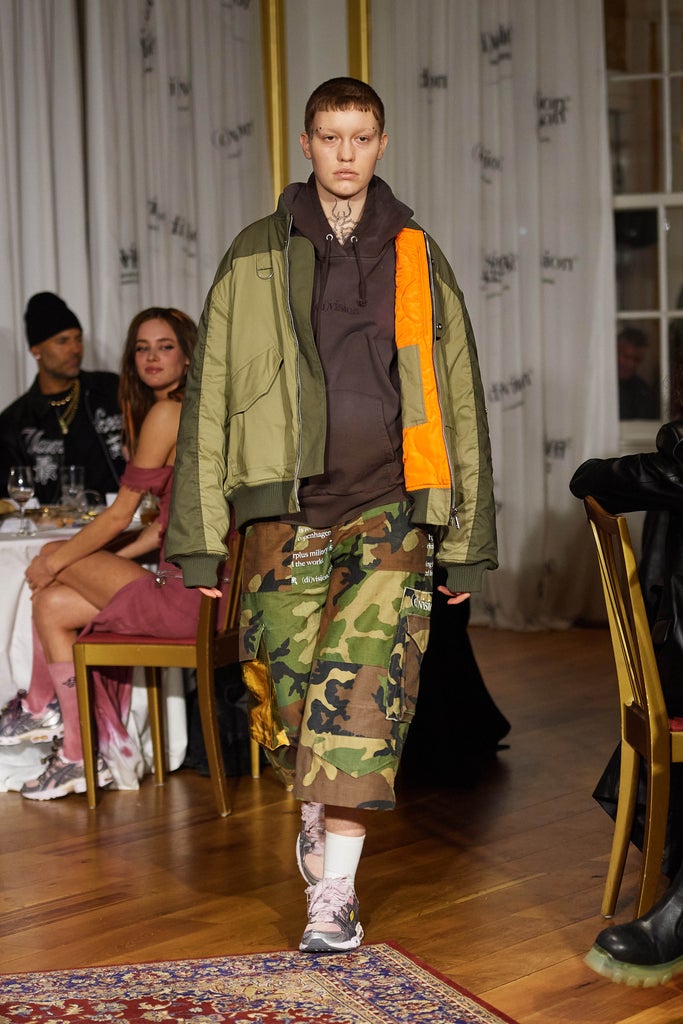 The influence of Y2K still lives on as camouflage print seems to be making a comeback. For proof, take note of (Di)vision's camo print long shorts, Selam Fessahaye's cocoon-like coat dress, and Helmstedt's abstract rainbow print. Camo has long been a Scandi favorite but, this season, Copenhagen's designers showed it in wider, more maximalist varieties. Being subtle is not in fashion.
Copenhagen Fashion Week Trend Fall 2023: Dresses Over Pants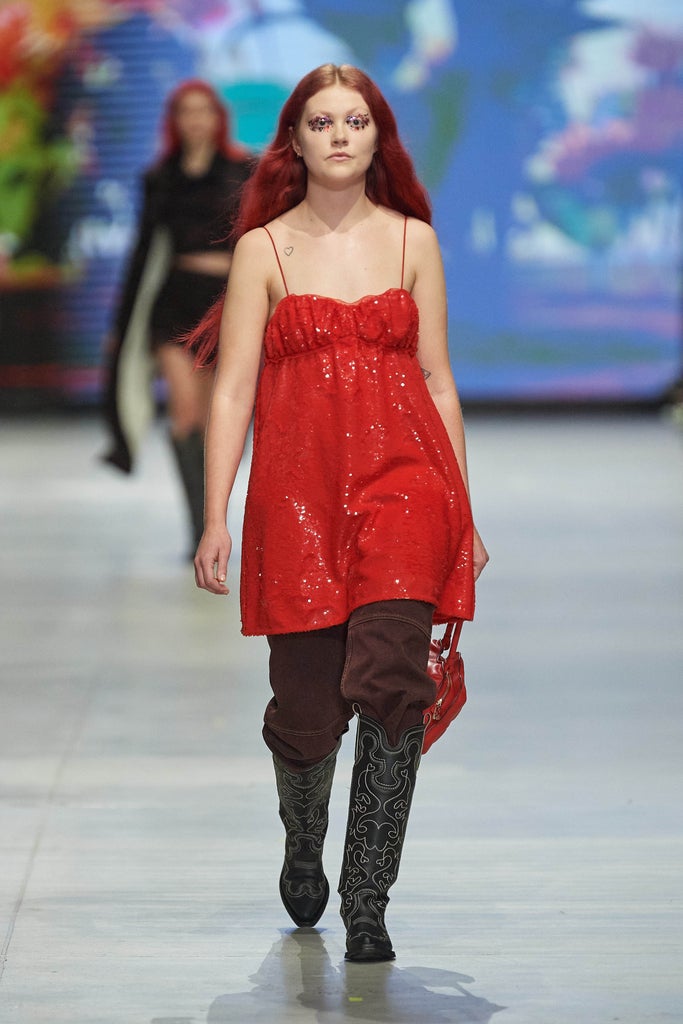 At Ganni, sequin slip dresses were thrown over slouchy pants and paired with cowboy boots, and strapless snakeskin mini frocks were styled with gold pants. The Garment presented a more minimal, uniform-inspired take on skirts over pants with office-like pants and a wool skirt. The '00s-inspired trend already started making a comeback last year, but we'll likely be seeing a lot more of the look that feels equal parts fun and practical.
At Refinery29, we're here to help you navigate this overwhelming world of stuff. All of our market picks are independently selected and curated by the editorial team. If you buy something we link to on our site, Refinery29 may earn commission.
Like what you see? How about some more R29 goodness, right here?